In Big Jump, Half of Oil Chiefs Get Pay Tied to Investor Returns
(Bloomberg) -- About half of oil company executives are now finding their compensation shackled to shareholder returns rather than just product output, up from 10 percent a year earlier.
Occidental Petroleum Corp., Hess Corp., EOG Resources Inc. and Anadarko Petroleum Corp. are among 19 explorers tying executive pay to investor returns starting in 2018, according to a survey of 39 companies by Goldman Sachs Group Inc. The changes mainly target short-term incentives -- salaries and annual bonuses -- and the metrics used can run from per share production to management of employed capital and underlying costs.
The shift comes as stock gains have failed to keep up with rising oil prices and booming output, reflecting investor demands for more fiscal discipline. While the changes are drawing praise, some portfolio managers want more.
"I'd like them to add the metrics to long-term incentive plans in 2019 as a further step," said Kevin Holt, the head of Invesco Ltd's $12 billion Comstock Fund. Long-term incentives that include stock options, performance shares and restricted stock account for 65 percent of compensation.
Still, Holt said, the changes so far "should be commended."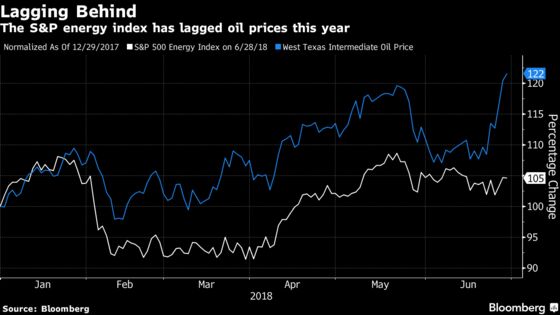 The Goldman Sachs analysis, led by managing director Brian Singer, reviewed the compensation packages for the 39 producers they cover for the second consecutive year. In 2017, only four companies tied their executive compensation packages to investor returns.
The latest report listed Occidental, Laredo Petroleum Inc., Extraction Oil & Gas Inc., GulfPort Energy Corp., Cabot Oil & Gas Corp., Cimarex Energy Co., and Newfield Exploration Co. as companies with "above average" changes to incentives.
For Occidental, the 2018 decision "improves alignment with our shareholders," Chief Executive Officer Vicki Hollub said in a February call. The change is designed to impact "both our short- and long-term incentives by incorporating cash return on capital employed as a key performance target," Hollub said. A spokeswoman for the company declined further comment.
For investors, corporate returns outweigh production gains because they "can be compared across sectors, and can be better measured consistently using standard financial statements," the Goldman Sachs analysts wrote. "While there is substantial room for further adoption of debt-adjusted per share growth and corporate returns incentives, this is a clearly positive signal for improved U.S. producer discipline."
Other groups have also been reviewing the pay packages. Doug Terreson of Everscore ISI said companies with the greatest changes to their compensation packages this year, based on a "shareholder alignment coefficient," are EOG, Devon Energy Corp. and Anadarko. Pioneer Natural Resources Co.. and Noble Energy Inc. have made minor changes, Terreson said.
"For those that resist adoption of value-based strategies and CEO pay incentives, their equities will remain decoupled from crude oil prices," Terreson said.