In a Merger of Equals, Fiat Shareholders Walk Away With Premium
They called the deal to create the world's fourth-biggest carmaker a merger of equals. But the pricing shows PSA Group was essentially the buyer and Fiat Chrysler Automobiles NV the seller.
The final terms -- even after a 5.5 billion-euro ($6.1 billion) special dividend to Fiat shareholders, a 1 billion-euro dividend to be paid by each carmaker before the deal closes, and the sale of PSA's stake in parts supplier Faurecia -- yield a price favoring Fiat owners. Jefferies analyst Philippe Houchois reckons that all in, they're getting a premium of 26%.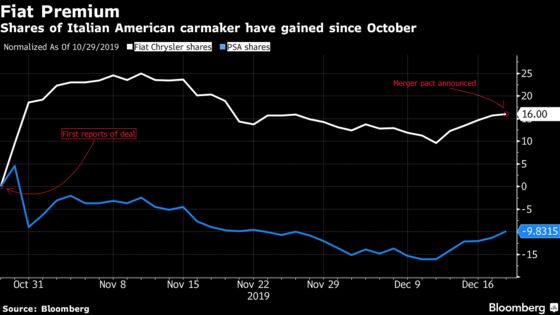 Still, Fiat's Agnelli family will be the biggest shareholder in the new company, which clouds the question of who ends up with long-term control. PSA's Carlos Tavares will be chief executive officer and PSA will appoint six of the 11 initial directors, but there's no lock on the French side maintaining the majority.
In the end, it'll be up to the two family dynasties -- Italy's Agnellis, led by Fiat Chairman John Elkann, and France's Peugeots -- to determine who's in charge. And more importantly, they'll decide whether the combined PSA-Fiat can avoid the pitfalls that have tripped up other cross-border mergers-of-equals, from Alcatel-Lucent, which stumbled before ending up in the hands of Nokia Oyj, and Publicis Groupe SA and Omnicom Group Inc., which fell apart before it got to the finish line.