Implats in Talks to Become a Platinum Metals Giant
(Bloomberg) -- Impala Platinum Holdings Ltd. is in talks to buy its smaller rival Royal Bafokeng Platinum Ltd., in a deal that Implats said may create South Africa's largest platinum-group metals producer.
Flush with cash after higher rhodium and palladium prices, Implats is seeking to expand by buying lower cost and mechanized assets as some of its deep-level operations near their end. The company said Wednesday a deal for all of Royal Bafokeng's shares may involve cash and equity and the outstanding details could be concluded in the coming weeks.
Implats has long sought to combine with Royal Bafokeng, and a deal would help the producer exploit synergies from deposits adjacent to its sprawling Rustenburg mining complex. It should also extend the life of Rustenburg mines and end royalties that Implats was paying to Royal Bafokeng to mine part of the adjacent reserves, Kagiso Asset Management Ltd. said.
Implats shares fell 1.9% in Johannesburg, while Royal Bafokeng climbed 16%, valuing the company at about $2.1 billion.
"It's a transaction that's been a long time coming, with clear benefits for Implats specifically," said Mandi Dungwa, an analyst at Kagiso in Cape Town.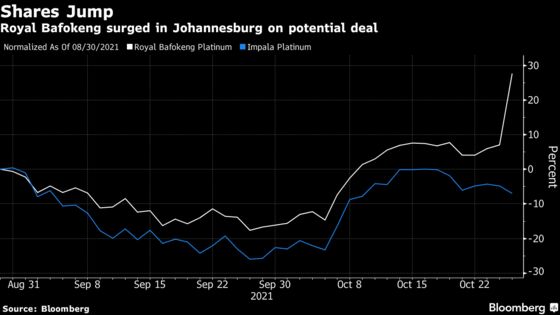 Stricter car-emissions rules have kept palladium and rhodium -- key metals in autocatalysts -- in tight supply and at historically high prices, increasing earnings for mining companies. Implats in September reported a record profit, prompting it to boost its dividend. It marked a turnaround for the company, which just three years ago was on the verge of cutting more than 10,000 jobs and closing some operations.
Implats's interest in taking over a rival also indicates that there's still appetite for PGM assets, even as a chip shortage weighs on the auto sector.
"Our interest in RBPlat has been known for a very long time and the strategic rationale is well understood by everyone," Implats spokesman Johan Theron said by phone. "Its always been a matter of the planets aligning to make such a deal possible, hopefully we now find ourselves at that time."
Sibanye Stillwater Ltd.'s deal this week to pay $1 billion for nickel and copper mines in Brazil shows how miners are looking to use cash to expand. After buying up PGM assets from Zimbabwe to North America, Sibanye is now looking toward battery metals needed for a green revolution. 
A deal between Implats and Royal Bafokeng would see the combined company mine about 3.45 million ounces a year, overtaking Sibanye and Anglo American Platinum Ltd. in terms of attributable PGM output, Theron said. That would see it rival Russian giant MMC Norilsk Nickel PJSC.
"We think it's likely to be a good deal, but this comes with a disclaimer because we haven't seen the metrics yet on what the price is, or the mechanisms, and whether it will be shares and cash or a combination," said Rory Kutisker-Jacobson, a portfolio manager at Allan Gray Ltd. in Cape Town. The company owns a 7.5% stake in Royal Bafokeng and 2% in Implats, he said.
Royal Bafokeng was listed in Johannesburg in 2010 and is the mining investment arm of the Royal Bafokeng nation, a community of people based near South Africa's Sun City.