Imperial Brands Drops as U.S. Vaping Slowdown Threatens Goal
Imperial Brands Plc dropped to a five-year low on concern that a slowdown in U.S. vape sales and weaker-than-expected tobacco revenue in the first half may push the cigarette maker's full-year target out of reach.
The shares fell as much as 5.1 percent, the most in four months, to 2,210 pence in London. Second-half sales growth would need to more than double from the first half's pace for Imperial to meet its full-year target of at least a 4 percent increase, wrote James Edwardes Jones, an analyst at RBC Capital Markets.
The company is under pressure to boost its vaping business as consumers increasingly switch from cigarettes, the longtime driver of profit growth. Imperial has lost U.S. market share in vaping to upstart Juul, whose high-nicotine vapes catapulted it into the leading player in that market. In addition, Altria Group Inc. is planning to sell IQOS heat-not-burn tobacco products there, tightening the competition.
Chief Executive Officer Alison Cooper said Imperial is entering the second half with strong momentum behind Blu electronic-cigarette sales. The company has already implemented most of its price increases in tobacco products, which should add to revenue, she said.
The CEO also said she expects vaping products to contribute to profit in coming years.
"Next-generation products are not that far away in terms of adding to the bottom line," Cooper said in a phone interview Wednesday. The maker of West cigarettes reported a 1.1 percent increase in first-half earnings per share, driven by its traditional tobacco offerings.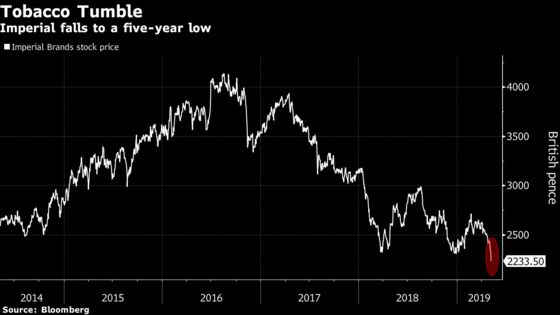 Sales of Blu and other cigarette alternatives more than tripled to 148 million pounds in the first half. The Bristol, England-based company has been pumping investment into such products, spending almost 100 million pounds in the period to advertise and get more smokers to switch.
While vaping growth was strong in Europe and Japan, Imperial flagged a first-half slowdown in the U.S., especially in the first quarter. The tobacco industry is facing uncertainty as it awaits clarity from the Food and Drug Administration on regulation amid calls to raise the minimum age for tobacco purchases to 21 from 18.
Imperial already saw some improvement in vaping sales in the second quarter, Cooper said in an interview with Bloomberg TV.
The company plans to slim down its traditional tobacco business to focus more resources on vaping. Imperial said last week it plans to sell its premium cigar business, which includes a joint venture distributing Cohiba cigars from Cuba. The unit could fetch as much as 1.5 billion pounds, according to Owen Bennett, an analyst at Jefferies. That would move Imperial closer to its target of raising 2 billion pounds by 2020 through asset sales.