IMF Chief Warns of Turbulence as Nations Withdraw Stimulus
(Bloomberg) -- The world faces greater uncertainty and potential turbulence this year, with the economic recovery's momentum slowing and risks from inflation and supply-chain bottlenecks to social unrest looming, the International Monetary Fund's chief said.
The IMF is preparing for a potential increase in demand for its lending this year as central banks tighten monetary policy and after many developing countries increased their debt, Managing Director Kristalina Georgieva said at a virtual event on Wednesday. Disaffection with two years of economic upheaval from the pandemic could lead to greater unrest in some countries, she said.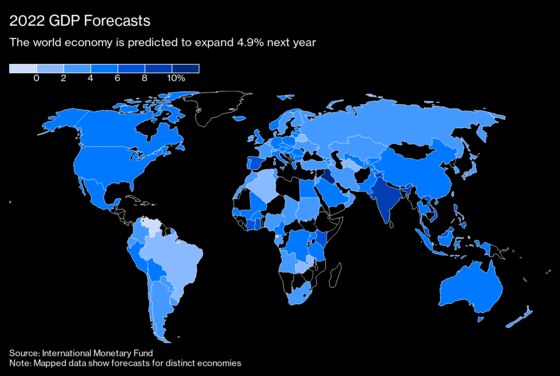 Central banks face a "delicate balancing act" between fighting inflation and supporting an economic recovery, Georgieva said. The spillover of monetary policy tightening on emerging markets "can add fuel to the fire of divergence" between advanced and developing economies, she said.
"We have to be prepared that there may be more turbulence," Georgieva said in an online event hosted by the Center for Global Development, a Washington-based think tank.
The IMF last year allocated a record $650 billion in reserves, called special drawing rights, for its 190 members countries to deal with pandemic fallout. The fund also dedicated $168 billion to help 87 countries deal with the pandemic.
The IMF board on Friday will discuss the proposal for a Resilience and Sustainability Trust to provide long-term funding at low interest rates to help countries weather both the pandemic and climate crises, Georgieva said. Funding for the trust would come from rich nations reallocating some of the reserves that they received through last year's issuance of special drawing rights.
Georgieva said that she expects to have the design for the trust in place by the IMF's spring meetings. She also suggested increasing the number of countries covered by the Common Framework established by the Group of 20 largest economies to provide debt relief for developing countries. That would make it more effective and address its current limitations that have seen only three countries make requests for relief, she said.