Illumina and Pacific Biosciences Call Off $1.2 Billion Deal
(Bloomberg) -- Illumina Inc. and Pacific Biosciences of California Inc. called off their planned $1.2 billion deal after U.S. antitrust enforcers last month moved to block the merger of the DNA-sequencing companies.
The transaction had been on hold for more than a year after being announced in November 2018. But antitrust authorities in the U.S. and the U.K. had pushed back against it, and the U.S. Federal Trade Commission filed a complaint to block it last month.
"Considering the lengthy regulatory approval process the transaction has already been subject to and continued uncertainty of the ultimate outcome, the parties decided that terminating the agreement" was the best option, the companies said in a joint statement Thursday.
Both companies make DNA sequencing machines, a fast-growing segment of the biotechnology and medical sectors driven by demand from drugmakers, hospitals and research institutions. Illumina will pay Pacific Biosciences a $98 million termination fee.
Shares of Menlo Park, California-based Pacific Biosciences gained 3.5% to $5.34 per share in New York trading after the markets closed; the stock had been trading well below the deal's $8-a-share value. Illumina shares were unchanged.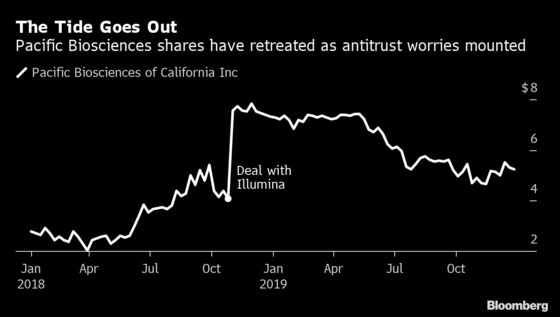 Gail Levine, deputy director of the FTC's Bureau of Competition, said in a statement Thursday that calling off the deal would preserve a more vibrant market.
"This deal threatened to let a monopolist extinguish nascent competition in a growing health care market: next-generation DNA sequencing. Customers across the United States and the world will now continue to benefit from the independent innovative efforts of these companies to develop faster, better, and less expensive next-generation DNA sequencing technologies," Levine said.
Her remarks echoed comments in December when the commission moved to block the transaction. And Illumina said at the time it would keep working to get the deal through while examining its options.
"It is not clear that we will be able to secure the required regulatory approvals to allow this transaction to close," Illumina spokesman Eric Endicott said in an email Thursday. "We believe it is in the best interest of both companies' shareholders and employees to terminate this agreement now."
One recent analysis by Morningstar Inc. estimated that Illumina controls more that 70% of the market for sequencing the human genome. Its DNA-sequencing machines range from bench-top devices to high-end sequencers that can cost as much as $1 million each, and are used in drug discovery, medicine, biological research and consumer testing.
Pacific Biosciences's machines use a different type of technology, which can decode extensive stretches of DNA with a high degree of accuracy. Unlike the technology Illumina's machines use, it can read some particularly difficult-to-analyze circumstances. At the time the deal was announced, Illumina said the takeover could help lower the cost of long-read sequencing from $12,000 to $1,000.