Disney Cuts Iger's Pay 56% to $21 Million, Axes Bonuses
(Bloomberg) -- Walt Disney Co. Executive Chairman Bob Iger saw his pay decline 56% to $21 million last year, after the company curtailed bonuses and other compensation in the wake of the pandemic.
Chief Executive Officer Bob Chapek, who was promoted to Iger's former role at the end of February, earned $14.2 million, one of the lowest compensation levels for a Disney CEO in more than a decade. Iger earned $21.9 million in 2006, his first full year as CEO.
Bonuses were eliminated for the company's most highly compensated executives. Executive pay was affected by the company not being able to meet some performance metrics. Disney lost $2.8 billion last year on sales of $65 billion.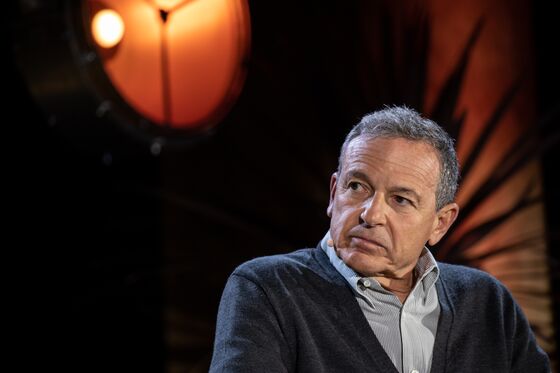 Disney was hit in myriad ways by the Covid-19 crisis, but also saw some businesses thrive. The world's largest entertainment company closed theme parks and docked cruise ships around the world. Like other Hollywood studios, it postponed releases of films in theaters, while the loss of live sports on television earlier in the year crimped the company's advertising business.
The company laid off some 32,000 workers last year and has shuttered once-popular attractions such as Radio Disney and the annual-pass program at Disneyland.
Despite the setbacks for its businesses, Disney's shares rose 25% last year. Its video streaming operations set records for new customer sign-ups as consumers shifted to watching more movies and TV shows online. The stock rose 1.9% to $175.56 in late trading after Tuesday's close.
Disney said it was making further changes to its compensation program in 2021, including eliminating earnings per share as a metric used for calculating bonuses. The Burbank, California-based company is adding revenue growth as a criteria.
Disney also disclosed that Chapek's son, Brian, left his $190,000-a-year job as a producer at the company's Marvel Studios at the end of September. He departed to form an independent production firm, which has a three-year deal with Disney.
The younger Chapek's company will receive $322,000 this year, rising to $367,000 by the third year. He'll also be entitled to a $200,000 bonus for each film where he serves as lead producer. The terms of his contract were reviewed by the board's governance and nominating committee, Disney said.
Brian Chapek worked at Marvel for almost nine years, most recently as an executive producer of the film "Thor: Love and Thunder," which is due to be released next year.