Adler Pressure Builds With Idle Cranes and Angry Berlin Buyers
(Bloomberg) -- "In the Sky Above Berlin" proclaims a billboard advertising luxury apartments in a gutted office tower overlooking a crumbling complex in the Western part of the city. 
By next year, so the promotion goes, residents can enjoy sweeping views of the city and the nearby botanical garden from the 120-meter (390 feet) tower, called UBerlin. That timetable looks increasingly unrealistic. The monolith has stood clad in scaffolding for several years, a single crane periodically changing direction, with no discernible work happening on site. 
It's the same scene across town next to the British embassy and the 5-star Adlon hotel. A few years ago, communist-era prefab blocks were torn down to make way for the Wilhelm project blending luxury retail and residential space. As of last month, Wilhelm remained a hole in the sandy ground. 
The two sites -- and a dozen others across Germany where progress has ground to a halt -- are part of Adler Group SA. The embattled real-estate group is under attack from angry property buyers and short sellers including Fraser Perring's Viceroy Research, which says Adler is built on fraud, an allegation the developer denies. 
A major landlord in Germany, Adler has aggressively sold assets to help prop up its balance sheet, putting about 40% of the company's portfolio on the block. Adler says buyers have agreed to pay more than book value, though so far only letters of intent have been signed.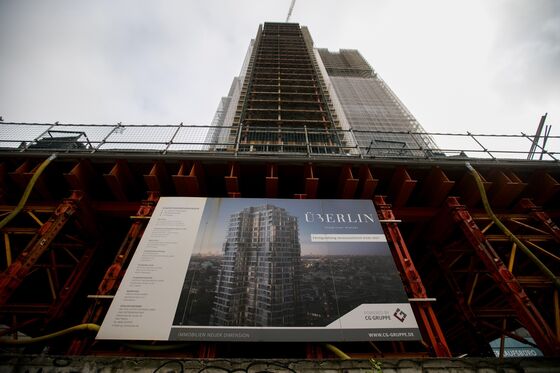 At Uberlin, the ambitious transformation from a once asbestos-ridden eye sore into an gleaming monolith promised to upgrade a challenged area wedged between a highway and discount shops. But the sales office has been closed for months; the construction site office is locked and barred, its doorbell unanswered in the early afternoon of a Wednesday in late October. 
"As an investor, you're left in the dark," said Andre Gaufer, who signed a contract and put down a deposit he declines to disclose for a 19th floor apartment at UBerlin in 2018. The managing director of advisory firm PROfinance Gmbh last got an update on the construction progress in early 2020, when the coronavirus forced a temporary work suspension. Gaufer's only correspondence since has been with Adler's lawyers, he says.
"Particularly at a prestige project like this, you'd expect to receive some information as a buyer," he said.
Adler, backed by the family of Austrian financier Cevdet Caner, is a major landlord in a country of tenants, owning 70,000 apartments across Germany, including 20,000 in Berlin. Caner said in an interview last month that the company could "look opportunistically" at selling development projects.
"There's so much demand for these assets right now, the market is very hot," he said. The company didn't respond to a separate request for comment on the lack of progress at the sites.
Another project on Berlin's Bundesalle is owned by Adler's Consus Real Estate AG unit and was unveiled back in 2016. It, too, remains years behind schedule and is still shrouded in scaffolding. In Dusseldorf, work started on the foundations of Consus' UpperNord Quarter, but has since ground to a halt, leaving a pair of unmanned cranes sticking out above the hollowed-out site. 
Adler's planned disposals have done little to resuscitate the share price, which is down 58% so far this year. It will also leave Adler's portfolio with significantly higher exposure to inherently riskier developments like the Wilhelm and Uberlin.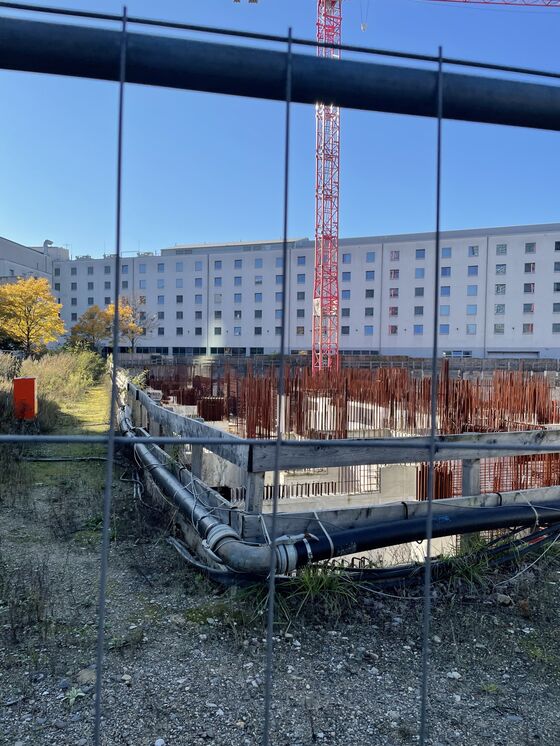 The silent construction sites and angry creditors aren't helping Adler fight off accusations in the Viceroy report that the company is a "hotbed of fraud, deception and financial misrepresentation designed to hide its true financial position, which is bleak." 
Adler has rejected the claims and said its properties have been independently valued and its accounts signed off by auditors. It says construction issues predate a three-way merger enacted last year and that the new group is now cleaning them up. 
"There is much greater room for subjectivity in the development portfolio valuations," said Creditsights Ltd. senior analyst David Shnaps, who pointed out Adler's "questionable track record" with such assets. "This drives incrementally higher subjectivity and increases scope for uncertainty."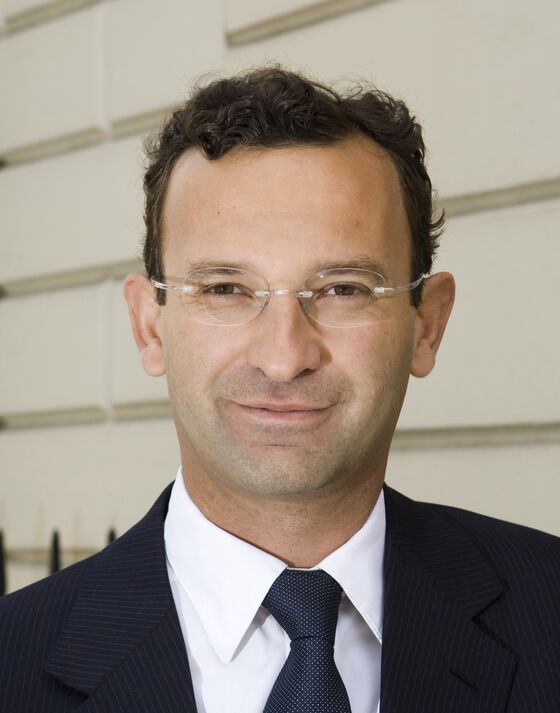 The company's operations and its valuations remain under intense scrutiny. Savills Plc, which valued Adler Real Estate's existing properties prior to the merger last year, grew concerned that management was exerting too much pressure to hike values, people with knowledge of the discussions said. Some dialog between management teams and external valuers is not unusual, but the extent of Adler's push was out of the ordinary, said the people, who asked not to be identified as the conversations were private. 
Savills has since been replaced by CBRE Group Inc., which has now taken on the rest of Adler Group's so called yielding portfolio of existing properties. NAI Apollo is valuer for the company's developments.
Adler said the change in valuers was done to streamline between the yielding and the development portfolio. The company also announced in late October it had appointed a new head of development to oversee its construction projects, signaling to investors it is looking to address issues in the construction pipeline.
The furor over Adler's construction projects and valuations highlights why minority shareholders' saw the sudden decision to buy Consus in 2019 as a risk.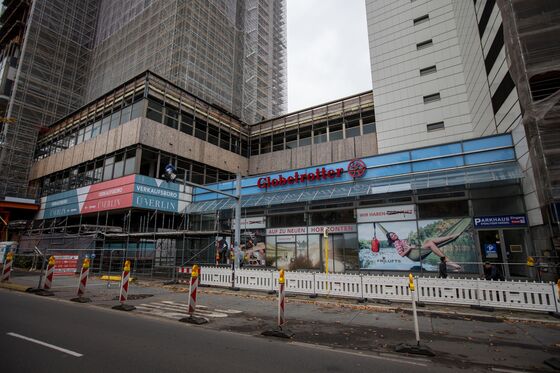 The business has drawn particular scrutiny from investors. A subsidiary of Aggregate Holdings SA, Adler's largest shareholder that's advised by Caner, bought a stake in German developer CG Gruppe in 2016 for 49 million euros, according to the Viceroy report. A year later, the stake was sold to Consus for more than 800 million euros with little obvious explanation for the huge increase in value, the report says.
The Adler saga is unfolding against the backdrop of a German housing market that may be approaching an inflection point. For the past decade, rents and prices have gone only up, supported first by an attractive spread over bond yields that lured private equity firms to buy housing from the state.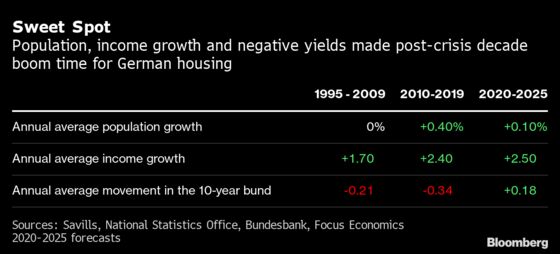 A sudden bout of population growth, coupled with lackluster development volumes helped the sector mature, with the emergence of giant publicly traded landlords. This year, institutional residential investment in Germany is forecast by Savills to top 30 billion euros, the highest on record and the most of any real estate type.
But now forecasters see population growth tailing off and the country's politicians have pledged to dramatically increase construction in recognition of voters' ire over housing costs. Savills forecasts that housing completions will jump to more than 300,000 a year through 2025, from an annual average of 232,000 in the decade posts-crisis. 
At the same time, rising inflation increases the prospects of an interest rate hike. In Germany, where residential leases are not typically indexed to inflation, that could hinder values. 
Gaufer, the buyer of a flat at the UBberlin tower, says he's been urged by the developer to either rescind his purchase agreement or agree to changes to the contract that he says diminishes the value of the property. 
"I'm sticking to my guns," said Gaufer. "I don't see why I should be bullied and cave in. Nobody's above the law."