Carl Icahn's Southwest Spat Stirs Debate Over Its Construction Arm
(Bloomberg) -- Activist investor Carl Icahn's efforts to shake up Southwest Gas Holdings Inc. has sparked a debate about whether the company ought to shed its construction business and become a pure-play regulated utility.
The billionaire who owns 4.9% of Southwest has this far focused criticisms on Southwest's leadership and what he characterized as its costly $1.97 billion purchase of pipeline company Questar earlier this month.  
But Icahn also said in his initial salvo that he believed the company could be worth $104 a share, based on the value of its underlying businesses and other improvements it needed. That's significantly more than the $75 he's offered to acquire the rest of the company. The stock was trading below $70 on Tuesday.
In an Oct. 5 letter, Icahn said the construction business, Centuri Group Inc, could be worth about $36 a share, while the value of the regulated utility was another $53. Cost cuts and improvements could add another $15, he added. 
Centuri provides an array of construction services to the energy sector, ranging from storage-field construction to pipeline repairs. Southwest added to the business in June with the acquisition of Riggs Distler & Co. 
Richard Sunderland, an analyst at JPMorgan Chase & Co., said in a note to clients this week that Icahn's focus on the value of Centuri relative to peers is likely to kick off a debate about whether it should be spun off or sold. He argued there is limited investor appetite for the current corporate structure.
"This sentiment largely matches general industry trends around streamlining non-regulated portfolios and repositioning as pure-play regulated operations," Sunderland wrote. "We expect this debate to grow going forward."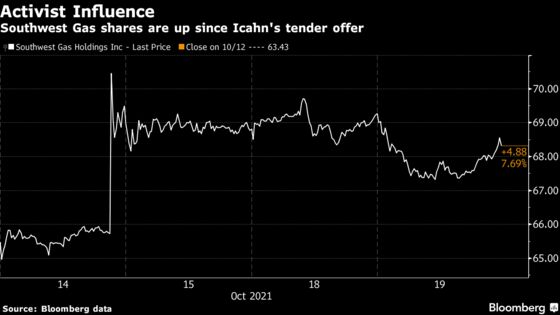 Representatives for Icahn and Southwest Gas didn't comment. The company's shares were up as much as 2.5% before the start of regular trading in New York.
Not everyone agrees a break up would enhance value. Southwest benefits from keeping Centuri because there are synergies between the utility and construction parts of the company, with both pieces learning from one another, said Siebert Williams Shank analyst Chris Ellinghaus. 
He doubts Southwest would consider splitting it off: "It's a big cash producer that helps to fund the utility."
A spin or sale of Centuri might be an easier avenue for value creation than the conditional takeover offer from Icahn. In addition to launching a proxy contest to replace the board, Icahn said last week he was prepared to launch a tender offer to acquire shares he doesn't already own. 
The tender offer from Icahn Enterprises is conditioned on several things, including regulatory approval, Southwest Gas not issuing new equity and the removal of a recently implemented poison pill, which acts as a takeover deterrent. Icahn said he may support a higher bid from a third party or bump his own offer.
Icahn also said at the time that he didn't expect any pushback from regulators. But is it is unclear whether authorities would support his takeover of Las Vegas-based Southwest Gas, which has a large regulated-utility business in Arizona.
Regulators in the state have a mixed history on takeovers by private investors. In 2004, for example, Arizona state regulators rejected the acquisition of Unisource Energy Corp., the parent company of Tuscan Electric, by private equity giant KKR & Co. Regulators did eventually approve the sale of UniSource, then known as UNS Energy Corp., in 2013 to Fortis Inc.