Icahn Proposed Buying HP If It Didn't Pursue Xerox Merger
(Bloomberg) -- Activist investor Carl Icahn said in August that he might consider buying HP Inc. himself if the printer maker didn't pursue a combination with Xerox Holdings Corp.
The billionaire investor presented the possibility to HP's then-Chief Executive Officer Dion Weisler in a phone call Aug. 12, according to a regulatory filing by HP Thursday. Icahn, who had just taken a 4.2% stake in HP at the time, argued that an HP-Xerox combination would provide about $3.5 billion in cost cuts and revenue enhancements. That figure has since been lowered to $2 billion.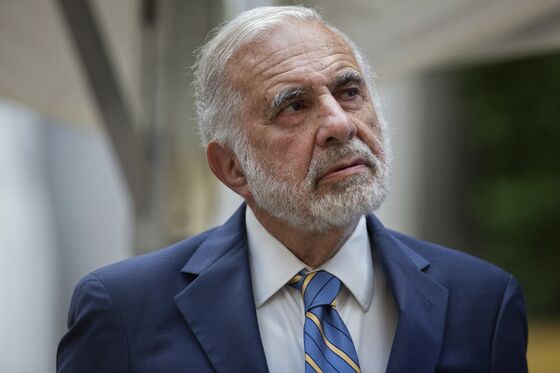 "He wanted a transaction to occur quickly," according to the filing.
HP said this week it believes the synergies of a combined company would be closer to $1 billion.
The filing offers new details about the back and forth between HP and Xerox since they began exploring a merger in the second half of 2019 and paints a picture of Xerox as a company in desperate need of a deal.
A representative for Icahn wasn't immediately available for comment.
The discussions started in the summer of 2018 as an exploration of a joint business venture and has since morphed into a $35 billion hostile takeover bid by Xerox for the much-larger HP. Xerox has also launched an effort to replace HP's board.
In its filing, HP recommends that its shareholders reject Xerox's slate of nominees to its board. Also on Thursday, HP said it was temporarily expanding its board to 13 members with the addition of NXP Semiconductors NV CEO Richard Clemmer.
Xerox reiterated it has made a compelling offer and urged HP to let shareholders decide what's in their own best interest without obstructing the facts.
"In the last week, HP adopted a poison pill, expanded the size of its board and misrepresented the discussions that led to our offer, none of which will create value for shareholders," Xerox said in a statement on Thursday.
In the early part of the negotiations, Xerox CEO John Visentin expressed concerns that his company was out of organic growth opportunities and must either expand through an acquisition or be acquired itself, according to the document. In a September meeting with Weisler, Visentin said Xerox had tried to buy Fujifilm Holdings Corp.'s interest in their joint venture but its Japanese partner refused to engage in discussions.
Visentin said Xerox could try to acquire HP "but that the extreme leverage that Xerox would need to take on to make such an acquisition and the resulting potential for a credit downgrade made it preferable for HP to acquire Xerox," according to the filing.
Visentin said he preferred for HP to use its stock to acquire Xerox but that cash would also be acceptable, the filing shows. Weisler said HP was still awaiting some requested information that would be necessary to conduct even a preliminary evaluation of a deal.
Since then, Weisler has been replaced as CEO by Enrique Lores, who has also had several interactions with Icahn, Visentin and other Xerox executives, including in November when Icahn told him that a $45-a-share offer for Xerox might be "an attractive price if HP were to do so," confirming an earlier report by Bloomberg News.
The same month, Xerox made a $22 per share offer to acquire HP in cash and stock and has since increased the offer to $24 per share. HP maintains the offer undervalues the company, and has expressed similar concerns about the amount of debt Xerox would have take on in order to complete the deal.
This week, HP unveiled a new standalone strategy that includes $15 billion in share buybacks over the next three years. It also said it has reached out to Xerox to explore if there is a combination that creates value for HP shareholders.
"Mr. Lores sent an email to Mr. Visentin proposing to arrange a meeting to explore the basis for a transaction and alternative transaction frameworks that could deliver attractive value to both HP and Xerox shareholders, and offering that Mr. Lores office would reach out to Mr. Visentin's office to arrange a time to discuss," according to the filing.