Swedish Grocer ICA to Go Private at $12.5 Billion Valuation
(Bloomberg) -- Sweden's biggest grocery chain, ICA Gruppen, plans to go private at a 107.4 billion kronor ($12.5 billion) valuation, the latest in a wave of dealmaking to sweep through the European supermarket industry.
ICA's majority owner, comprising an association of 1,500 retailers, is looking to acquire all the shares it doesn't already own, according to a statement on Wednesday. The group sees leaving the stock market as key to modernizing the company amid increased competition from online grocers.
The buyout would be one of the largest consumer deals on the continent this year and follows the acquisition of British grocery chain Wm Morrison Supermarkets Plc by buyout firm Clayton Dubilier & Rice for 7 billion pounds ($9.5 billion). France's Carrefour SA has also been immersed in consolidation talks, trying and failing to sell itself to both Canada's Alimentation Couche-Tard Inc. and domestic rival Auchan.
Traditional bricks-and-mortar retailers are increasingly under threat from e-commerce rivals, a trend that's intensified since the coronavirus pandemic forced millions of shoppers to stay at home. ICA struck a licensing deal with Ocado Group Plc in 2018 to help bolster deliveries, though expects just 100 stores to use the platform by year end. 
The Swedish company is also facing increased competition from the likes of Lidl in Latvia, where it operates the Rimi Baltic chain.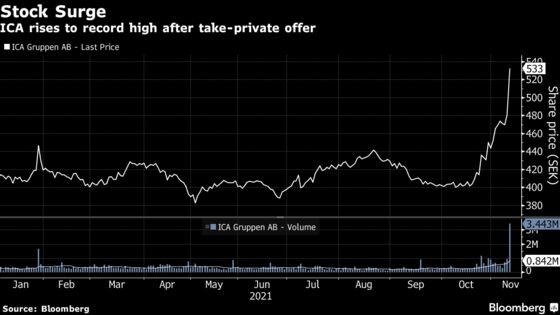 The offer of 534 kronor per share comes from ICA-handlarnas Forbund and pension fund AMF and represents a 11% premium compared to the closing price on Tuesday. The stock jumped almost 11% as of 10:30 a.m. in Stockholm on Wednesday.   
"Now we need to focus on growth oriented long-term investments, which are best suited outside the stock market, and we are happy to have AMF on board for the journey," said Magnus Moberg, chairman of ICA-handlarnas Forbund.
ICA-handlarnas Forbund is the largest shareholder in the grocery group with a stake of 54%. AMF will hold 13% of the shares and voting rights after the deal.
The bidders will contribute 20.5 billion kronor in equity with the balance coming from a bridge financing provided by Handelsbanken Capital Markets and SEB Corporate Finance, who are also financial advisers, according to the statement.