IBM's $33 Billion Red Hat Deal Leaves Street Weighing Who's Next
(Bloomberg) -- International Business Machine Corp.'s $33 billion planned takeover of Red Hat Inc. lifted software stocks broadly as Wall Street continues to expect more deals in the growing cloud sector. Other potential takeover candidates include MongoDB Inc., ServiceNow Inc., Akamai Technologies Inc. and Adobe Inc., according to analysts. The S&P Supercomposite Software Index pared gains after rising as much as 2.6 percent, led by an almost 50 percent surge for Red Hat.
Read more: Red Hat Analysts Don't Expect Rival Bids After Pricey IBM Offer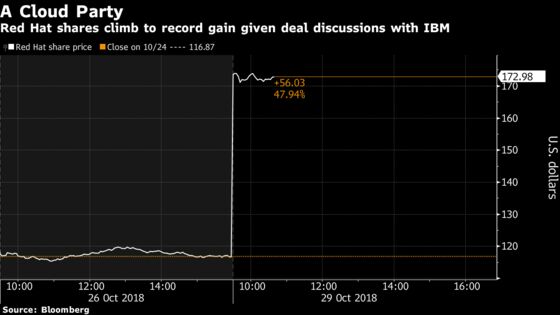 Here's what Wall Street is saying about the merits of the deal, potential for alternative bids and any signaling for further software M&A.
"Despite the increased market volatility in recent weeks, one thing that typically does not go out of fashion in software is M&A."
Stifel said a number of companies within its broader software and security universe can be viewed as strategic acquisitions, including but not limited to: MongoDB Inc., Adobe Inc., ServiceNow Inc., Guidewire Software Inc., Veeva Systems Inc., Blackbaud Inc., Proofpoint Inc. and FireEye Inc.
In addition, Stifel "would not be surprised if a hyperscale cloud vendor such as Google, Amazon, Microsoft, or Oracle make a competing bid" for Red Hat given the company's strategic position within on-premise data centers.
Oppenheimer, Timothy Horan
"We expect further acquisitions by the large legacy technology companies, including IBM and Oracle, and Vonage and Akamai are targets in our coverage universe."
"We believe IBM was forced to make a major acquisition, to look to disrupt the cloud market. We do think this is good for the infrastructure service providers and overall cloud growth," in addition to OTT voice and video providers.
The deal "is a threat" to Microsoft more so than Amazon Web Services, as it is the dominant hybrid cloud compute company. However, if IBM and Red Hat are successful, it will take several years before it has an impact on Microsoft.
Bernstein, Toni Sacconaghi
Bernstein believes potential for other bids are unlikely given the risk that other major public cloud providers may jeopardize Red Hat's reputation as being the "Switzerland of the IT stack."
"On one hand, IBM makes a notable competitive statement by acquiring critical mass into the fast-growing hybrid cloud market," Wedbush said in a note.
On the other hand, deal metrics, the intent to suspend share repurchases and Red Hat's recent billing misses combined with potential execution challenges provide incremental risks.
"Interest rates are heading higher so we are ending one of the most lucrative financing phases in the last 20 years."
Auty said Okta Inc., Palo Alto Networks Inc., ServiceNow, RingCentral Inc. and DocuSign Inc. are on the list of strategic targets for companies looking to gain market share.
"The combination of this iconic deal and the sharp selloff in tech stocks could drive more M&A discussions. In our universe, we view MongoDB, Splunk, Twilio and Workday as attractive, rapidly growing next-gen software vendors that are well equipped to successfully operate as independent companies or become part of a larger tech organization."