British Airways Owner Falls Most in a Year on Summer Doubts
(Bloomberg) -- British Airways parent IAG SA led a decline in European aviation stocks amid concern that a third wave of Covid-19 and emerging doubts surrounding U.K. plans to restore travel could stymie prospects for rebounding bookings.
IAG fell as much as 16%, the most since March 16, 2020, when lockdowns went into effect across the world. EasyJet Plc slid 10%, Ryanair Holdings Plc 7.4% and tour operator TUI AG 8.9%. U.S. carriers with trans-Atlantic exposure were also priced lower in morning trading in New York.
Hopes for an imminent revival in European travel suffered a blow after France and other states announced new lockdown measures. U.K. Defence Secretary Ben Wallace told the BBC Sunday there's no guarantee that foreign leisure travel will be allowed from May 17 as planned, while Mike Tildesley, a scientist on a government advisory body, said summer holidays overseas are extremely unlikely because they'd risk bringing back new Covid variants.
"Airlines and travel operators had seemingly refused to countenance the cataclysmic idea of another heavily disrupted summer and had been busily advertising to an increasingly inoculated U.K. population," said Russ Mould, investment director at AJ Bell. "The travel sector is waking up on Monday to a dose of reality."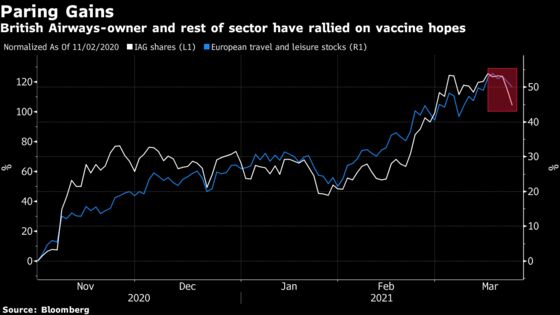 Airlines in Europe have been lobbying to restart flights over the normally busy summer season, following months of lockdown measures and travel bans that wiped out their balance sheets. Last week, the European Commission unveiled a plan for the introduction of a digital pass that would ease travel for those who have been vaccinated, recovered from the virus or recently tested negative.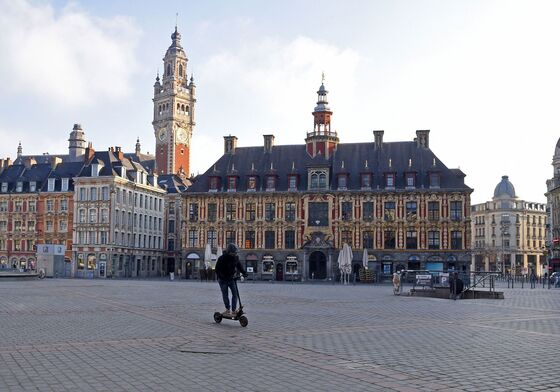 The new lockdowns -- along with confusion over testing and quarantines, and the fact that young people are yet to be vaccinated -- mean that "most of the expectations of summer are implausible and imponderable," Citigroup analysts led by Mark Manduca wrote in a note to clients Monday. "Summer in our view will be anything but normal."
Bonds of London-based IAG dropped 0.7 cents on the euro to their lowest price since December. The 500 million euros of notes due July 2027 were bid at 90.3 euros on Monday afternoon, according to CBBT prices.
Deutsche Lufthansa AG shares fell as much as 5.4% on concern that Germany will take action to dissuade people from traveling amid rising infections in Europe's most populous country.
Chancellor Angela Merkel's government will propose mandatory quarantines and Covid-19 tests for returning travelers at a meeting with regional leaders Monday, according to a chancellery draft seen by Bloomberg.
"These regulations are changing all the time," Jens Bischof, chief executive officer of Lufthansa's low-cost subsidiary Eurowings, said at an online Aviation Week event. "It's still a situation of very high uncertainty."
Among U.S. carriers, JetBlue Airways Corp., which aims to begin flights to London in the third quarter in its first trans-Atlantic foray, fell as much as 6.9%. American Airlines Group Inc., which operates a joint service with British Airways on U.K. flights, dropped 4.6% and Lufthansa ally United Airlines Holdings Inc. slipped 4.2%.
Carnival Corp.'s Costa Cruises division won't now resume sailings with its ship Costa Smeralda until May 1, the Italian business said Monday, after previously planning to restart later this month.
"The decision has been taken in consideration of the restrictions still in place in Italy and other European countries to contain Covid-19," Costa said, adding that plans changed because lockdowns would impact shore visits.