Hyflux Bond Investors Lose Hope of Recovering Any Money
(Bloomberg) -- Some of the mom and pop investors desperate to recover money from Singapore's embattled water treatment firm Hyflux Ltd. are losing confidence they'll get much of anything back as the wait drags on.
In the latest twist to the city-state's most high-profile debt restructuring, Hyflux's legal adviser this week expressed its intent to resign from the case due to "loss of confidence," while the company said in turn that it has lost trust in its adviser and has since appointed new ones. That adds to uncertainties facing the about 34,000 retail investors in the company who have been waiting for resolution since it stumbled in 2018.
"It has been a dramatic 18 months," said Violet Siew, a home-maker in her 50s who invested in junior securities including perpetual bonds and preference shares. "We have been hit with bad news and bad decisions by Hyflux."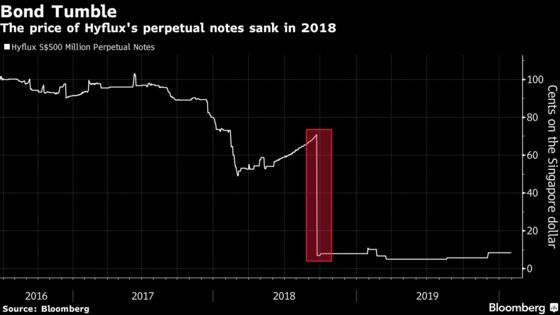 Middle Eastern suitor Utico FZC reached a deal with Hyflux in November, but that agreement still faces hurdles -- from investor approvals to how various lawyers and consultants will divide around S$40 million ($30 million) in fees. The entry of mystery bidder Aqua Munda Pte, which has offered to buy up the company's debt, has prompted further uncertainty. Hyflux's debt moratorium was this week extended until Feb. 28.
A large pool of retail investors probably illustrates the complications of this case and why it's taking so long for resolution, Singapore high court judge Aedit Abdullah said at a hearing this week.
Hyflux and Aqua Munda didn't immediately reply to requests for comment. Utico said the majority of investors in its offer will get cash rather than equity, "which is better than nothing." It added that perpetual and preference shareholders can stay invested in the firm for dividends and a recovery, based on how the market performs.
Some investors have hoped the government would step in to help, despite it repeatedly rejecting calls to bail out Hyflux, saying the restructuring is a "commercial matter."
All investments carry risks and "businesses can come under financial stress and are not immune to defaults," the Monetary Authority of Singapore and the Ministry of the Environment and Water Resources said in a joint statement last year.
The government can't use taxpayers' money to help investors recoup their losses from the company, Singapore Minister for the Environment and Water Resources Masagos Zulkifli said in parliament in April.
"The long delay in the process probably reflects the bad situation that Hyflux is now in and how many differing opinions there are about the exit strategy of a rudderless ship," said Weilong Sim, a 43, self-employed professional, who has invested S$10,000 in Hyflux's perpetual notes.
For frustrated retail investors like Siew, Utico's offer, which benefits smaller holders of bonds, isn't attractive. She said she plans to vote against it as the recovery is low and there is "not much difference from a complete write-off in the event of liquidation."
Sim said he probably won't subscribe to the offer, as he wants Hyflux "to go bust as a statement of protest."
Hyflux's dragged-out restructuring is a reflection of the challenges of working out debt in Singapore, where a significant proportion of the local bonds have been bought by individual investors. This has posed difficulties for investors to organize as a group and to speak in a single voice.
To be sure, restructuring bonds isn't easy anywhere. But in the broader Asian credit markets, there have been a handful of cases where investors have managed to get strong returns after companies bounced back from defaults. Still, few investors in soured debt are willing to wade into Singapore's local bonds, due to the lack of liquidity and a fragmented investor base.
"Generally, the recoveries for Singapore dollar bonds have been fairly poor," said Ezien Hoo, credit research analyst at Oversea-Chinese Banking Corp. "We have seen some companies coming out of restructuring and still operating but bondholders haven't gotten very good returns."