Hungary Makes Budapest Airport Bid as Orban Seeks Control
(Bloomberg) -- The Hungarian government has made a non-binding offer to buy Budapest Airport Zrt., according to people familiar with the matter, as Prime Minister Viktor Orban seeks to gain control of what had been one of the fastest growing hubs in the region before the coronavirus pandemic.
The offer, which was received by the owners of the airport this week, was deemed to be below market value when compared with similar recent deals, including a recent valuation of the Sydney airport, one of the people said.
While the Budapest hub's owners have until recently ruled out selling their stake, they've also expressed concerns about the Hungarian government's use of hardball tactics to try and force their hand. These included blocking pandemic funds and permits to develop the facility, as well as harsh criticism of how the airport is run, which the operator considers unfounded, Bloomberg reported in April.
The government would make a "fair offer," but added that if rejected, the state would seek another method to restore its control, according to an interview with Innovation and Technology Minister Laszlo Palkovics, the cabinet's point-person to retake Budapest Airport, published on the Vasarnap.hu news website a month ago.
Budapest Airport operator AviAlliance, a German-based airport management company which is also the biggest shareholder, declined to comment. Hungary's government didn't reply immediately to a request for comment.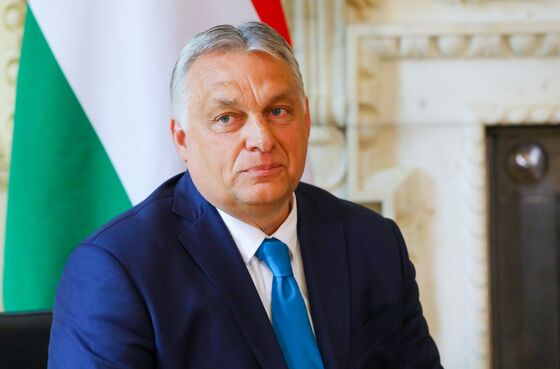 Orban's government has sought to reduce foreign ownership in an increasing number of industries it considers strategic, and it has said the capital's hub is key for tourism and broader economic development.
Orban, meanwhile, is under fire on multiple fronts. The European Union's executive on Monday may withhold approval of Hungary's recovery plan saying it doesn't go far enough in combating corruption, potentially risking the timely arrival of billions of euros in funding. A law that expands a crackdown of LGBTQ rights, this time by banning content for minors that's deemed to "promote homosexuality," was condemned by a majority of European leaders last month.
The government's offer for the airport was below fair market value, according to a person familiar with the owners' assessment. The person cited the sale of comparable airports, including London City and Nice in 2016, and Brussels in 2019, all of which had valuations based on multiples in the low to mid 20s on the companies' earnings before interest, taxes, depreciation and amortization.
Despite the hit on the industry, the Covid pandemic doesn't appear to have changed valuations, with Sydney airport receiving an offer this July of 22 times its 2019 Ebitda, a measure of profitability, as the price is mostly driven by the future development of the aviation industry.
Last year, Budapest Airport reported Ebitda of 38 million euros ($45 million) and a full-year loss of 110 million euros after a collapse in travel. The airport expects operations to return to pre-Covid levels by 2023.
The hub's privatization started in 2005 and the Hungarian government sold its remaining stake in 2011, a year after Orban returned to power. The concession agreement lasts until 2080.
Bloomberg first reported last October that Orban's allies had approached the airport with an unsolicited offer. At the time, a consortium, including partially state-owned refiner Mol Nyrt, had mandated Daniel Jellinek, the owner of local real estate developer Indotek, which had business deals with Orban's family, to submit the offer.
After talks didn't progress, the government came forward to say it intended to acquire a majority stake in Budapest Airport.