Hudson Yards Can't Hold Candle to Exploding Cakes
(Bloomberg) -- This week is supposed to be about Hudson Yards, specifically the shops and restaurants that open to the public Friday at noon after several days of previews and one big party Thursday night.
But Monday night, the place to be was the Seagram Building in Midtown East, where the Art Production Fund took over the Grill and the Pool to throw its annual benefit.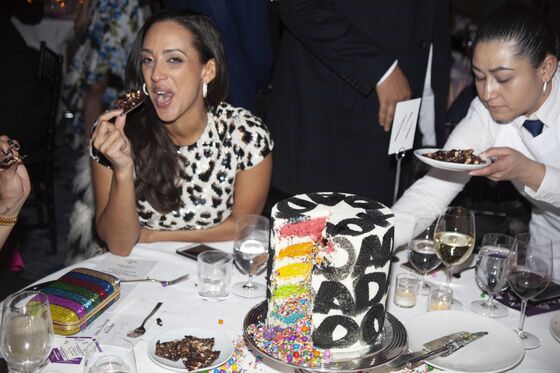 A party in a shiny new mall for a cast of thousands may sound like fun -- break, tap and swing dancers are expected Thursday night -- but hanging out in an iconic dining room with a few hundred tastemakers wasn't too bad. Plus the event raised more than $700,000.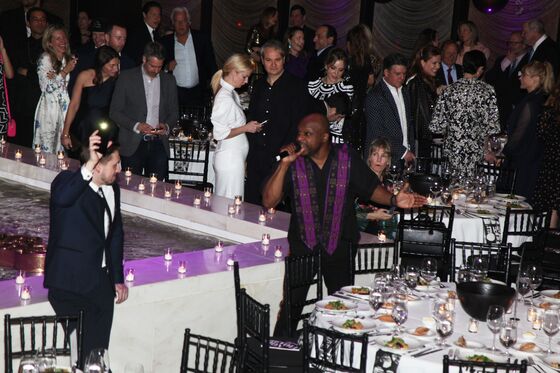 Aby Rosen, who owns the Seagram Building, wished Hudson Yards well as he made a case for Midtown East.
"I'm a big fan of Park and Fifth," Rosen said. "People who move into Hudson Yards will come back to Midtown. We have museums, the park, Madison Avenue. You can't beat that."
Bringing in the Art Production Fund to curate the crowd and the festivities was a big boost to his argument. Since 2000, the organization has "injected a vitality and sexiness into the idea of bringing art into the public realm," said co-founder Yvonne Force Villareal.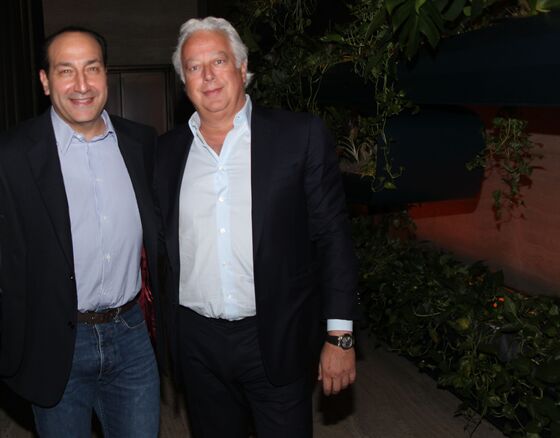 "Their events are the most fun," said Alyson Cafiero, citing the people gathered and how well they dressed. She was wearing Richard Quinn, and was standing next to Polina Proshkina in Emilia Wickstead.
Forty of the guests wore Alice + Olivia. The brand's founder, Stacey Bendet, was being honored after years of supporting the charity, including sponsoring an installation of a 43-foot tall neon uterus on Sunset Boulevard by artist Zoe Buckman.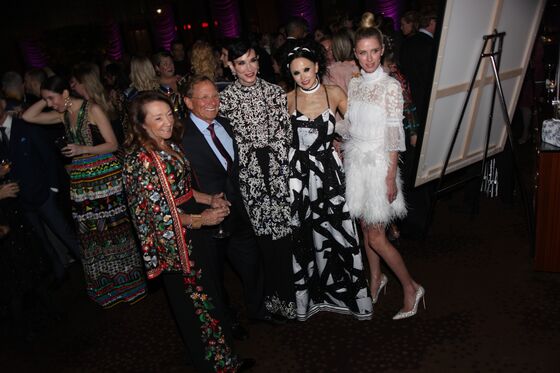 Former Disney chief Michael Eisner was standing on the Grill's balcony with son Eric, watching his daughter-in-law Bendet greet admirers.
"She had the good sense to marry my son," Eisner said, adding that Eric once told him: "'Usually men marry a woman who's the image of their mother. How did I marry someone in the image of my father?' It's our workaholism and leadership."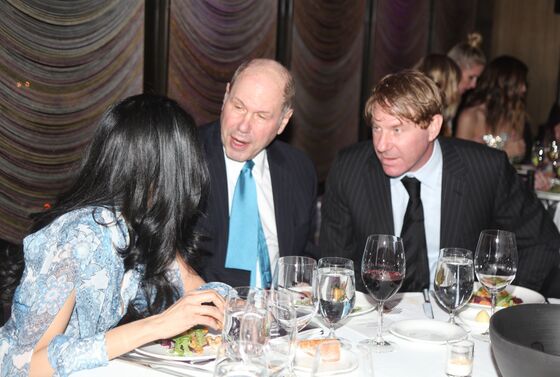 Artist Adam Pendleton, who's preparing a show in Berlin, wandered into the Pool to see how the ceramic bowls and napkins he designed for the tables looked. Did he get to the choose the menu? Sort of -- they were going to serve lobster, but he's allergic, so they switched to filet mignon, he said.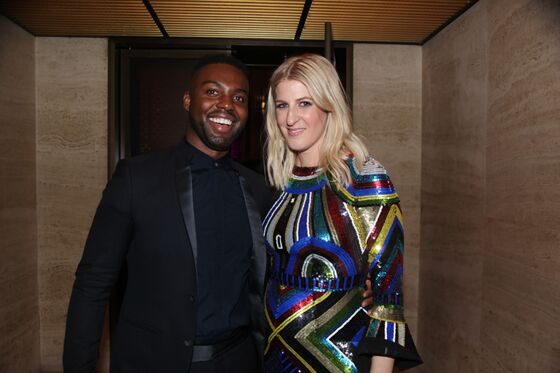 Pendleton was a co-honoree with Bendet, who based her dress on one of his black-and-white paintings, adding glitter. It was beautiful, he agreed, but he doesn't think he'll be using glitter anytime soon.
Jason Biggs and Jenny Mollen Biggs, Nell Diamond and Sarah Hoover danced before dinner to Prince songs performed by the Harlem Gospel Choir. After dinner, there was fabulous cake.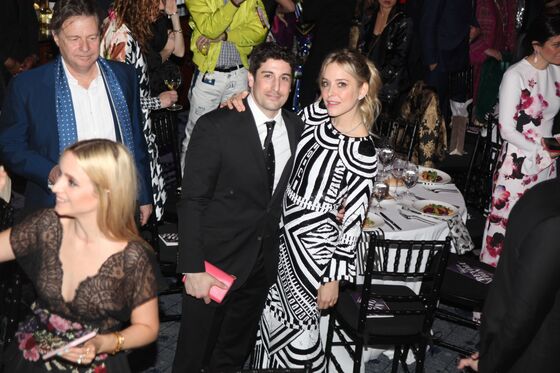 Actor Mike Myers said he'd only allow himself "two forkfuls," but others were less restrained about the giant slices that came courtesy of Flour Shop's Amirah Kassem.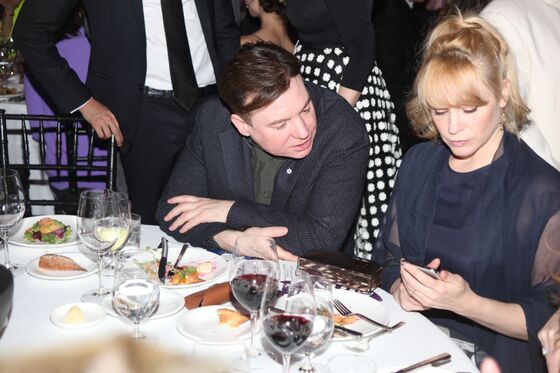 "I like the cream-cheese frosting," said Charles Jigarjian of 7G Capital Partners, whose wife, Michi Jigarjian, is an Art Production Fund board member.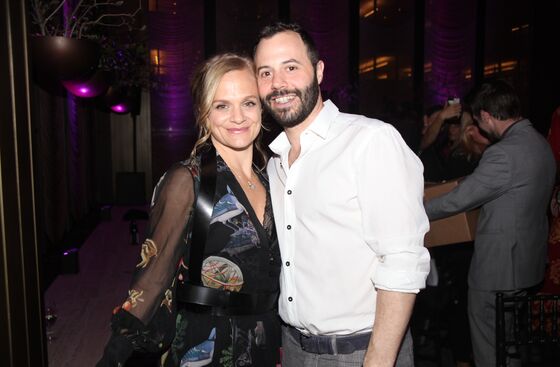 The best part was watching the cake being cut, releasing an avalanche of sprinkles and revealing that impressive stack of layers forming a rainbow. It was just another flourish that turned a Monday night charity benefit into the most fun night of the week, so far.