HSBC Set to Show If CEO Flint Has a Tight Grip on Cost Pressures
(Bloomberg) -- HSBC Holdings Plc Chief Executive Officer John Flint used a March leadership summit to take a swipe at some of the bank's most senior managers. Their sin, according to people familiar with the matter, was to miss cost targets: in turn, that meant Flint couldn't meet his own promise to grow revenue faster than expenses -- "positive jaws," in banking jargon.
On Friday, Europe's biggest bank will report first-quarter results. Flint will want to show investors that HSBC -- a sprawling institution that makes most of its money in Asia -- is back on track to deliver positive jaws for 2019, seen as an important signal that he has brought costs under control. The investment bank is likely to be in particular focus after another tough quarter for most global securities firms.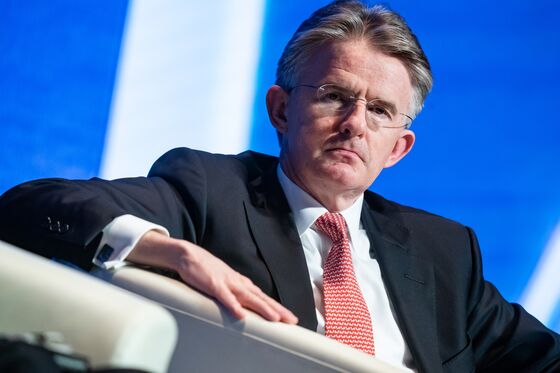 "What will be key for investors is the pacing of spending, as that has a direct knock-on for costs versus revenues," said Joseph Dickerson, a bank analyst at Jefferies International Ltd. "I think they may be able to show positive jaws, as they are going to be able to pace investment. If they miss, it will be on revenues."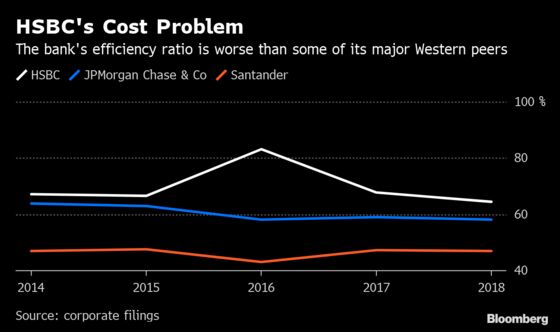 HSBC's cost dilemma has a parallel with smaller rival Standard Chartered Plc, another London-based, Asian-focused bank that's gone through a multi-year restructuring. Results Tuesday showed StanChart posted a 2 percent year-on-year drop in expenses and a widening gap between income growth and costs.
StanChart's shares have surged to a 10-month high and are up 17 percent this year, outpacing HSBC's 2.8 percent advance.
"We're not a holder," said Alasdair McKinnon, lead fund manager at Scottish Investment Trust Plc, which owns a $29 million stake in Standard Chartered, but has avoided HSBC stock. "It's so complex; it's so big that we don't know what to make of it."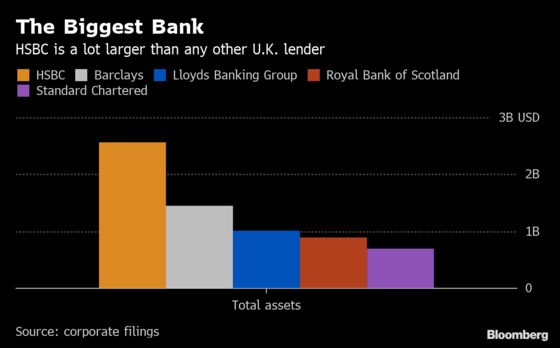 Flint, who took over as CEO in February 2018 after almost three decades at the lender, is attempting to turn HSBC into a more manageable institution. In a glossy in-house video, shot documentary-style following him in his first year in the job, he recently said that he wanted to create the "healthiest human system" for more than 230,000 staff in 66 countries. That catchphrase has started to appear in the bank's memos and other communication.
It's unclear whether Flint's cost pressure -- and an increased focus on digital services -- will cause the number of humans in that system to shrink. After staffing fell gradually since 2010, the number of employees increased by about 6,000 last year. It's "time for the organization to get back into growth mode," Flint said in the video.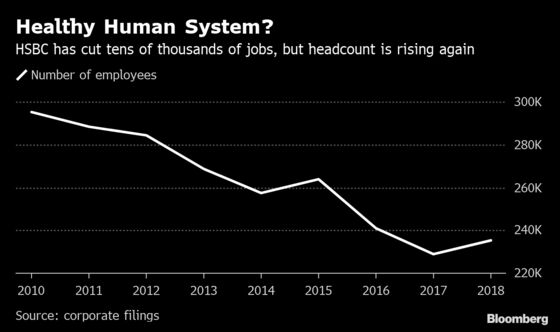 "In retrospect, the bank has had to make some investments because of under-investment in the past," Jefferies' Dickerson said. "The more central problem is the headquarters, which seems grossly oversized, and they don't seem to want to address the issue."