HSBC's Dividend Shock Leaves Deep Marks in Hong Kong
(Bloomberg) -- Last month HSBC Holdings Plc shocked investors by announcing it would scrap its dividend. For the Hong Kong Medical Association, a group in charge of community public health programs instrumental in the fight against the coronavirus and a long-time investor in the city's biggest bank, the news meant it would lose 7% of its annual spending budget.
With more than half its stock portfolio invested in the bank, the group is now under pressure to trim its spending, adding to strains in a city hurt by the virus outbreak and months of anti-government protests, according to Leung Chi-chiu, its honorary treasurer.
The association is among investors in Hong Kong hurt by HSBC's unprecedented decision to skip payouts at the behest of U.K. regulators. Particularly galling for some is that HSBC draws most of its profits from the Asian city, which isn't restricting dividends, and where local retail investors -- who own a third of shares -- have propped it up in past downturns.
Reassuring them will now hinge on Chief Executive Officer Noel Quinn's ability to boost the performance of a lender whose shares have trailed the Hang Seng Index in five out of the past six years once dividends are excluded. This at a time of mounting stresses in Hong Kong while the virus outbreak disrupts Quinn's plan to squeeze greater returns from the bank by cutting staff, exiting unprofitable units elsewhere and pushing more firmly into mainland China.
"The large pool of retail investors in Hong Kong is important to HSBC as they have been supportive to the bank each time the shares drop," said Steven Leung, executive director at UOB Kay Hian in Hong Kong. "The bank will no longer be that popular if it's no longer seen as a dividend play."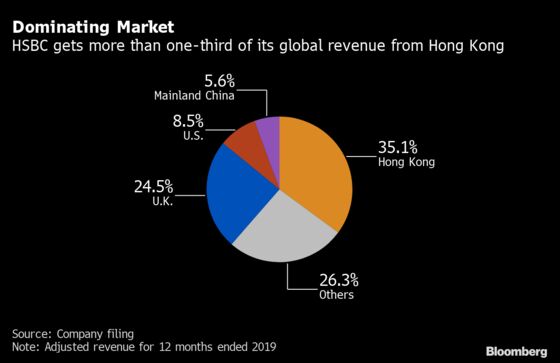 Quinn, in a letter to Hong Kong investors earlier this month, pledged to review the payout once the impact of the pandemic is clearer, even though his hands are largely tied by U.K. regulators. "We profoundly regret the impact this will have on you, your families and your businesses," he said.
A business consultant in his 40s, Paul Chan, dumped all his stocks after the announcement, angry at the bank for even going back on a dividend payment that was already decided.
"It's unfair as most of HSBC's profit comes from Greater China," said Chan, who just started building his stake in November last year.
The turmoil adds to an already frayed relationship. HSBC became a flash-point in the city's anti-government protests, with its branches vandalized and two iconic lions outside its main offices defaced after it closed an account linked to the protests. While HSBC cited inconsistent activity, its motives were questioned at a time when it's pushing into China and repairing its relationship with Beijing after cooperating in the U.S. probe of Huawei Technologies Co.
But HSBC's roots run deep in the city where it was founded 155 years ago. The city accounts for its biggest chunk of customers and its name even adorns local bank notes.
During past tough times, HSBC leaned on Hong Kong investors. Back in 2009, more than 98% of those shareholders took part in a $19 billion rights offering to get it out of the financial crisis after local tycoons such as Li Ka-shing endorsed the stock.
A movement to get the bank to reverse its decision has won support of less than 2% shareholders, but couldn't muster the 5% needed to call an extraordinary general meeting. The shares fell 0.7% as of 3:39 p.m. in Hong Kong, just above the 11-year low they hit following the dividend cut.
Standard Chartered Plc, another U.K. bank listed in the city, has just 5% ownership from retail investors. Its shares are down about 12% since also calling off its dividend.
The medical association doesn't see any other viable, stable companies that they could swap out HSBC for at the moment, but it's worried about the bank's strategic development in Europe, especially after Brexit, said Leung. HSBC wouldn't have as much turmoil if it only operated in Hong Kong or Asia, but being merely a regional bank may not be the best strategy, he said.
HSBC has been called on and taken other steps to help struggling customers in the city, offering at least HK$30 billion in relief and paused planned job cuts. Quinn has agreed to forgo a cash bonus this year.
Along with other banks, it's the recipient of backing in terms of added liquidity and eased capital buffers in both Hong Kong and the U.K. HSBC warned in February the virus outbreak could cost as much as $500 million in the first quarter.
The bank reports first-quarter earnings on Tuesday next week, following other global lenders who have reported soaring credit losses even as trading income boomed amid wild markets. JPMorgan Chase & Co. and Wells Fargo & Co. last week posted their highest loan-loss provisions in a decade.
Hong Kong's government, which has made no move to limit dividends of the banks it regulates, would welcome HSBC returning its headquarters to the city, Secretary for Financial Services and the Treasury James Lau told local paper South China Morning Post.
An HSBC spokeswoman said there have been no discussions on relocating again.
After more than 40 years as a shareholder, Choi Chen Po-sum, the 89-year-old chair of National Resources Securities Ltd. and former vice chairman of the city's stock exchange, is "consolidating" her holdings but isn't ready to let entirely go of HSBC. Local investors have been disappointed by HSBC before, including when it relocated to London in 1993, she said.
"I'm going to miss them if I sell them all," said Choi.