HSBC Paints Grim Outlook In 'Hugely Unpredictable' Times
(Bloomberg) -- HSBC Holdings Plc joined the chorus of banks warning about a difficult economic outlook to cap a costly earnings season.
The Asia-focused lender missed estimates after reporting first-half profit that halved to $5.6 billion because of higher credit provisions. It is speeding up the shakeup of its global operations after warning that the fallout from the coronavirus pandemic may trigger loan losses of as much as $13 billion this year.
"This is still a hugely unpredictable environment," said Chief Executive Officer Noel Quinn on a conference call. The bank is looking at further measures to boost performance, including investing more in Asia and cutting back in the U.S.
The shares were down 3.5% at 1:51 p.m. in London, slumping to their lowest level in more than a decade and taking their decline to 44% for the year so far. Shares in British rivals like Barclays Plc and Lloyds Banking Group Plc fell last week after they reported earnings also dominated by big provisions.
"We do need to take costs down, as a result of the revenue pressures" from the coronavirus, said Chief Financial Officer Ewen Stevenson in an interview with Bloomberg Television after HSBC lifted its estimated bad debt charge to the range of $8 billion to $13 billion for the year.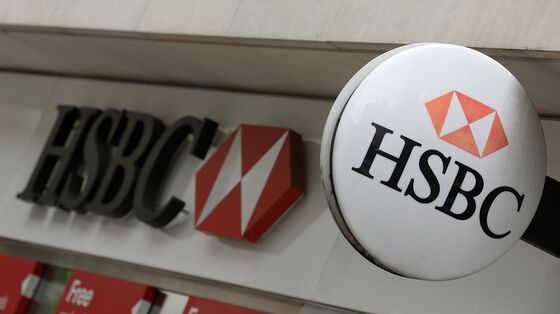 HSBC has been seeking to pivot away from Europe and the U.S. to expand its business in the fast-growing Chinese market. The lender, which has been singled out by Washington for its backing of Beijing, said it will continue to shift its capital towards Asia, which provided nearly all of its earnings. Quinn said the tensions between "China and the U.S. inevitably create challenging situations for an organization with HSBC's footprint."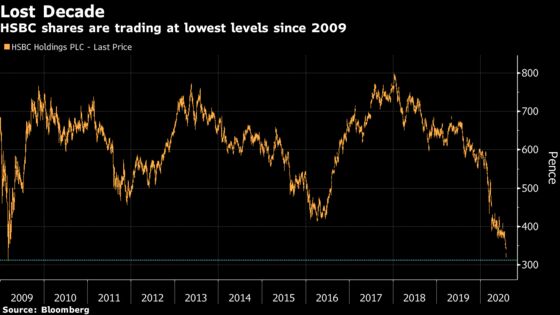 Quinn said HSBC had to accelerate its turnaround plans in light of the pandemic and warned the lender would need to be more radical. The company cut more than a third of its 224 U.S. branch network as it pushes ahead with restructuring plans.
"Our operating environment has changed significantly since the start of the year," said Quinn. "We will also therefore look at what additional actions we need to take," he said. CFO Stevenson also said more than 4,000 staff had left in the first-half of the year, the first of 35,000 jobs expected to be cut over the next three years.
Last month, Quinn told more than 200 of the lender's most senior managers that they needed to boost returns, people familiar with the matter have said. In a bid to hasten change, Quinn is pushing for more authority to be delegated to regional managers, the people said, requesting anonymity to discuss private talks.
The bank said the U.K.'s gloomy economic outlook was responsible for about 40% of the $3.8 billion provision taken in the second quarter. Jefferies said in a note to clients that the "impairment charge has disappointed and management unhelpfully have widened the range" of the estimated hit for the full year.
Impairment charge of $3.8 billion taken in the second quarter
U.K. bank makes up $1.45 billion of second-quarter provision
Second-quarter charge is 30% higher than first three months of 2020
HSBC's investment bank recorded a 79% gain in its foreign-exchange, rates and credit income division in the second-quarter compared to a year earlier. FICC revenue hit $2.1 billion, the latest results from a global lender that underline the diverging fortunes of trading businesses and domestic economies.
The results mark 12 months since HSBC surprised the banking world with the ouster of then CEO John Flint. Flint had fallen out of favor with Chairman Mark Tucker, who then appointed Quinn to replace him as acting CEO, before he was given the job on a permanent basis in March.
"One suspects that significant further restructuring announcements lie ahead in the coming quarter," John Cronin, an analyst at the Dublin-based Goodbody stockbrokers, wrote in a note.