HP Gives In-Line Profit Forecast on Low Hardware Margins
(Bloomberg) -- HP Inc. gave a profit forecast in line with estimates, reflecting the world's second-largest personal computer maker's challenge to cut costs amid strong competition in the low-margin hardware industry.
Profit excluding some items will be 50 cents a share to 53 cents a share in the current period, the Palo Alto, California-based company said Thursday in a statement. Analysts on average projected 53 cents, according to data compiled by Bloomberg.
Despite 10 percent sales growth in the fiscal fourth quarter, HP is facing tougher competition while worldwide PC demand remains stagnant. Lenovo Group Ltd. seized HP's global sales crown in the third quarter, according to Gartner Inc., though the company has invested in making more upscale and desirable machines. HP's Personal Systems unit, which includes PCs and makes up about two-thirds of total revenue, only had a 3.8 percent operating margin in the period that ended Oct. 31.
Amid job reductions and other cost cuts, HP's ho-hum profit outlook for the current period -- its crucial holiday sales quarter -- could fuel concern about the company's pricing power.
Under Chief Executive Officer Dion Weisler, HP has sought to boost its printer and services business to take advantage of higher profit margins in ink sales, subscriptions, maintenance and corporate print services than in hardware. The efforts have started to pay off, with printing unit posting a 16.1 percent operating margin in the fiscal fourth quarter.
"We saw some aggressive, competitive action at the low end of the U.S. market both in consumer and commercial," Weisler said. HP decided not to engage in those tactics, instead pursuing profitable sales growth, he added.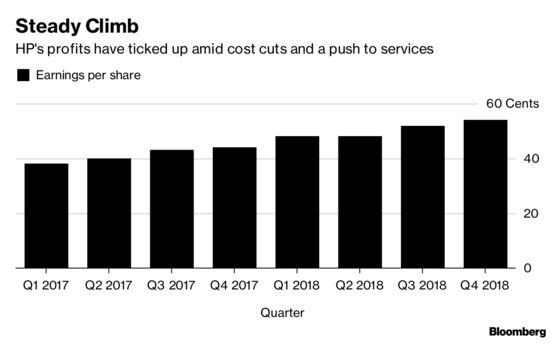 HP shares rose more than 1 percent in extended trading Thursday after closing at $22.86. The stock has gained 8.8 percent this year.
For more details on the results, click here.
Read the statement here.