How to Lose $23 Billion in a Market That's Surged 61,436%
(Bloomberg) -- Making money in a booming Indian mobile-phone market that soared from fewer than 2 million users to more than a billion in less than two decades might have seemed like a no-brainer. Now it's more like a nightmare with losses for overseas companies rising to at least $23 billion.
"The promise of a market with over one billion potential users is very attractive," Chris Lane, a Hong Kong-based analyst at Sanford C. Bernstein, said by email. "Too many licenses, too little spectrum, high taxes and supply-constrained airwave auctions has made this a very expensive market to operate in."
The $23 billion lost includes impairment charges and losses reported in company filings of global majors from London-based Vodafone Group Plc to Japan's NTT Docomo Inc. -- all of whom have exited or suffered as hyper competition has hurt the earnings of even the market leader Bharti Airtel Ltd. Expensive spectrum auctions and cancellation of telecom licenses in 2012 in the wake of a graft probe made it even harder for the companies that piled into a market that as of 2015 included a dozen competing operators.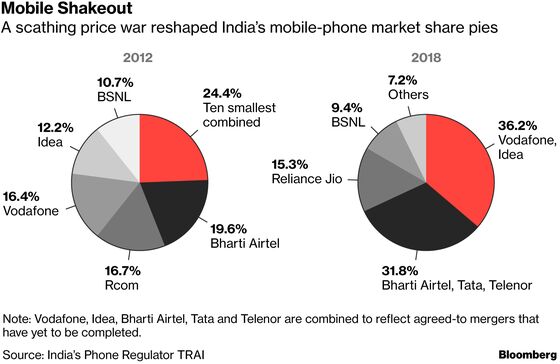 The going's unlikely to get easier anytime soon. The outlook on the bonds and loans of India's top operator was slashed to negative this week by Crisil, the local ratings unit of S&P Global, which cited "intense pricing pressure" in a statement.
Here's a breakdown on how losses stacked up for each foreign operator:
| | | |
| --- | --- | --- |
| Investor | Losses/Write-Offs | Status |
| Vodafone Group | $8.7 billion | Merging with Idea Cellular |
| Maxis Communications | $7 billion  | Filed for bankruptcy |
| Telenor | $4.1 billion  | Sold to Bharti Airtel, exited  |
| NTT Docomo | $1.3 billion | Litigated, sold stake back to Tata group, exited |
| Etisalat | $829 million | Exited |
| AFK Sistema  | $695 million | Merged with Reliance Communications |
| Axiata Group Bhd | $356 million | Took write-offs, still holding 10.66% in Idea |
| Total  | $23 billion | |
| Sources:  | company filings, statements | |
The entry of India's richest man Mukesh Ambani's Reliance Jio Infocomm Ltd. in 2016 has proven to be a turning point in consolidation for the market. The upstart stormed in with free voice services for life and initially free data services to lure subscribers, prompting smaller rivals to merge or quit the market altogether.
"I suspect most of these would have eventually failed or been consolidated," said Lane. "Jio only expedited the process."