How Much Per Gram? A Tour of Canadian Pot Prices on Day 1
(Bloomberg) -- Canadian cannabis consumers flocked to the country's first legal marijuana stores and online sites Wednesday to find prices that generally compete with the black market. Here's a tour of what a gram of dried cannabis costs around the country on Day 1 of legalization.
Quebec's the cheapest. Prices start at about C$5.29 ($4.06) a gram, taxes included, in the country's second most-populous province, which has vowed to compete with illegal dealers. An ounce of pot is equal to about 28 grams.

"It's even lower than the price you buy on the streets," 20-year-old Allan Landry told reporters outside a downtown Montreal store, where people lined up starting at 3:45 a.m.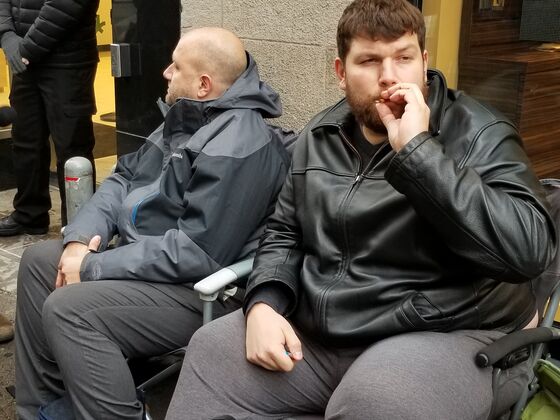 Nova Scotia's close behind, with prices starting at just over C$6 a gram and going as high as C$15. Not everyone found that a bargain. Aldean Cromwell, 29, who's been smoking weed since he was 12, wasn't as impressed by the prices at the government-run store in Halifax.

"This doesn't change much for me as far as how I smoke weed or where I get my weed from," Cromwell said. "I think it's a little crazy to be honest. C$10.99 and above for premium? It's probably about C$5 to C$6 for what they're calling premium here in the black market."

British Columbia: In this province of pot connoisseurs, the online store featured more than 90 strains of flower, the cheapest starting at about C$6 a gram. Only one legal brick-and-mortar store is up and running on Day 1, in Kamloops.
In Manitoba, where prices start as low as C$7 a gram, Cameron Templeman, 24, said prices were comparable to the black market. His experience at Delta 9's south Winnipeg store was "way different" from what he expected. The storefront was clean, professional and not like a "dingy street market."
In Alberta, where the government is leaving brick-and-mortar retail to the private sector, prices went from C$6.95 to C$13.95 at a Nova Cannabis store in Edmonton.
In Ontario, dry weed costs about C$8 to C$12.50 a gram, "definitely within the goal posts," according to Canaccord Genuity analyst Matt Bottomley. The delay in delivery and additional shipping costs will probably end up costing users more than they're used to paying on the black market and "that's not great for transitioning people" to legalized sales, he added.
Here's a look at prices in the black market, for comparison.