How Merkel's Potential Heirs See the Key Issues: Policy Rundown
(Bloomberg) -- Chancellor Angela Merkel's successor as party leader will have a powerful policy voice in Germany, underscoring the stakes when Christian Democratic delegates cast their ballots on Friday.
BlackRock Inc's Friedrich Merz portrays himself as a pro-business conservative who would give Europe's biggest economy a jolt. The other main candidate, Annegret Kramp-Karrenbauer, is a traditional centrist whose political balancing acts often make her sound like Merkel, her ally and boss.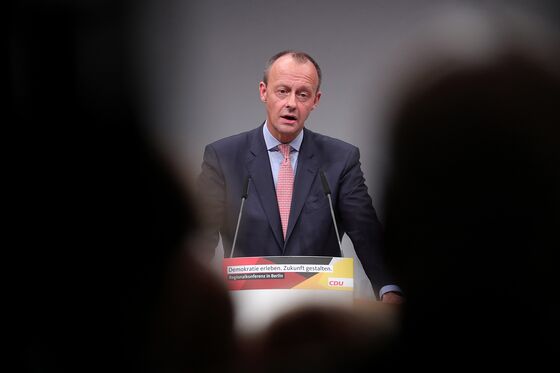 Once the dust has settled, however, expect policy tweaks rather than radical change. Here's a peek at where the two main contenders stand on key issues from the euro to relations with President Donald Trump.
Look for broad continuity. Merz, who's re-entering politics after almost a decade in business, has pushed several buttons. He says Germany needs to "make a big contribution" to ensure the European Union's success. Unlike Merkel, he'd have let Greece drop out of the euro at least temporarily. "Looking back, it would have been better to do that," he told ARD television. Kramp-Karrenbauer, whose home state of Saarland borders France, is a natural pro-European, though she says Germany must defend its interests, "no matter how charming the French are."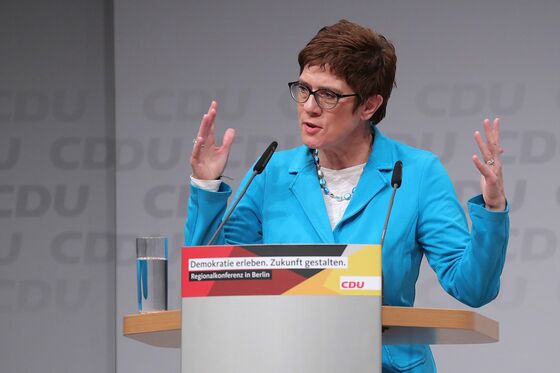 Merz's business contacts and leadership role in a group that promotes U.S.-German ties give him a notional advantage. "Self-confidence is the key in dealing with America," he said at a candidates' debate on Nov. 15. "Americans despise obsequious behavior." His rival says she'd do more to sidestep the White House and engage with U.S. state leaders, a stance that would be difficult to uphold if she were elected chancellor.
Merz's calling card is less government, simplified taxes and more openness to risk-taking in a global digital economy driven by industries such as artificial intelligence. "We don't need a state that stifles business with bureaucracy," he says. Even so, history suggests it's hard to find majorities for deregulation and tax cuts in Germany. Both candidates advocate a push for big European projects with France, modeled on Airbus SE, to boost industry's ability to compete with U.S. and Chinese companies.
Last week's Russian-Ukrainian naval clash sharpened criticism of Vladimir Putin and raised questions about the wisdom of pushing ahead with the Nord Stream 2 gas pipeline, which Merkel backs. "Putin should at least know we're thinking about this question if he keeps behaving like that," Merz said. His opponent called for a cut in Russian natural-gas imports and banning Russian ships from EU ports. What neither can replicate is Merkel's 15 years of experience in dealing with Putin, including their shared past of living under communism and her knowledge of Russian.
Merz proposed a boost in government incentives for private retirement savings, similar to 401(k) accounts in the U.S. Critics say that's a conflict of interest with his role as supervisory board chairman of BlackRock's German asset management branch, something Merz denies. Almost 30 years after east and west Germany reunited, he and Kramp-Karrenbauer say it's time to start whittling away at a tax surcharge to help the ex-communist east.
Merkel's decision in 2015 to leave the border open to refugees looms over German politics, sparking some of the sharpest exchanges of the succession race. Kramp-Karrenbauer, who has held a top post at Merkel's party headquarters since February, broadly backs her policy, while arguing for stepped-up deportations. Merz peppered his appearances with criticism of Merkel, saying Germany faces "unregulated" immigration and questioning its constitutional right to asylum. He pledged to halve voter support for the anti-immigration Alternative for Germany party, or AfD, if elected CDU chairman. That drew a riposte by Kramp-Karrenbauer, who said that, unlike Merz, she actually faced down the AfD in a state election she won last year.