Lloyd Blankfein Spent His Last Night as Goldman Sachs CEO at a Cancer Benefit
(Bloomberg) -- The party at the Plaza Hotel Thursday night wasn't Lloyd Blankfein's send-off from Goldman Sachs after 36 years there, the last dozen as chief executive officer.
Goldman's party "isn't scheduled," Blankfein said on the way to his dinner seat, where bronzino and a glass of Guenoc Cabernet awaited. "With a little luck, they'll forget about me before I have to do it."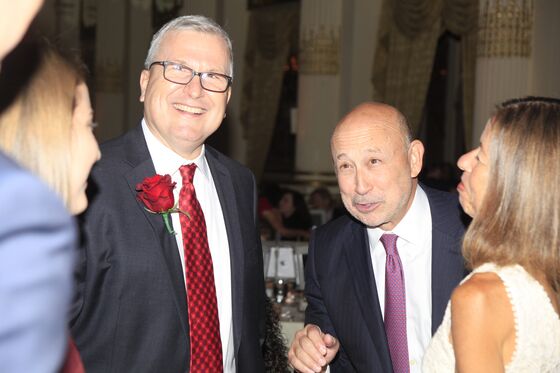 Instead, Blankfein's last night as CEO took him to a benefit for the Lymphoma Research Foundation celebrating John Leonard, the doctor who treated him for the blood cancer three years ago.
"I really am happy to be here, and on a semi-serious note, I'm frankly happy to be anywhere," Blankfein, 64, said on the stage of the Grand Ballroom. "It's special for my family and me to be able to honor the person who guided us through what was for us, a pretty turbulent storm, and again, for us, quite unchartered territory."
As the event's chairs, Blankfein and his wife Laura helped raise more than $2.3 million for the organization, which supports early-career researchers and runs education programs. Some large donations were made specifically in honor of the Blankfeins, including $100,000 from John and Susan Hess, $75,000 from David Geffen (who hosted the Blankfeins on his yacht this summer), and $50,000 from Ken Griffin.
As for what Blankfein plans to do next:
"I haven't spent any time thinking about it, but I will," he said during the cocktail reception. "I'm done with Goldman, but I'm not done with working."
He added that he feels "energized" by this juncture. "It's weird, I've been Goldman Sachs so long, I always wondered, 'If I peeled Goldman off my face, is there anything under it?' But I'm looking forward to finding out. No reasonable suggestion will be ignored."
Luckily, one of Blankfein's friends from Harvard, dermatologist Roy Geronemus, was on hand to provide some clarity: "He turned down my offer to do business development at Laser and Skin Surgery Center," Geronemus said, noting that back in college, Blankfein was a comedian. "No one thought he would do anything, he would tell jokes."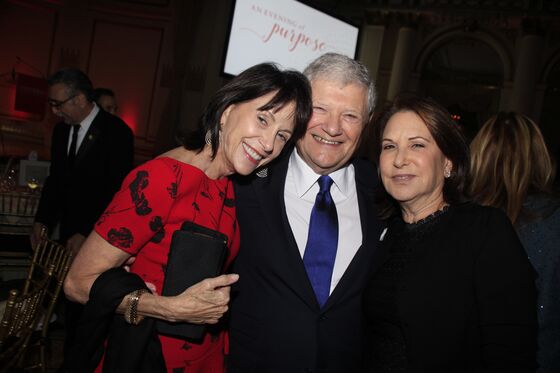 "I'd love to see him take on some problem of the city of New York or the country," said Jonathan Mechanic, chairman of Fried Frank's real estate department. "He's got the brain power, creativity and the opportunity to really make a difference."
Lance Meyerowich of Wells Fargo, who is both a Goldman Sachs veteran and lymphoma survivor, said that Blankfein should "Enjoy life. Take a break. People grind to the end, it's kind of crazy."
But Blankfein, with just one more day to put in at work, wasn't looking too far ahead. "I think after I stop being CEO, I'm going to take the weekend off. Tonight I'm dedicating myself to lymphoma research. If I don't do anything for a long time, then in that case I always planned it that way."
Actually, there is one project already afoot: a "Lloyd and Leonard, or Leonard and Lloyd?" podcast, joked Leonard, who's affiliated with Weill Cornell Medicine.
Surely they have fodder from their doctor-patient relationship.
"I would email Dr. Leonard every two minutes -- well, it seemed like minutes, it was probably 30 seconds," Blankfein said in his tribute. "Once, after a particularly excessive bout asking him the same question, the 84th time I got an answer back: 'Can I call you in 10 minutes? I'm at a podium giving a speech.'"
In a video, many other patients said Leonard is great at responding to emails. But Leonard confessed in his remarks, "One time, I faked an out-of-office message."
That's something that after today Blankfein doesn't have to do at Goldman Sachs.