How Star Power Trader Cleared Own Trades and Lost Millions
(Bloomberg) -- The question on everyone's mind in the wake of Einar Aas's default and expulsion from the Nasdaq Inc.'s Nordic power market is -- how was he allowed to act as his own clearer?
The answer: By showing a total net worth of at least 70 million euros ($81 million) based on the latest tax records, an individual can gain membership on the exchange and trade for themselves. The person also would need proven experience buying and selling electricity, derivatives and with the Nordic electricity market, according to a list of criteria obtained by Bloomberg News.
Aas had it all in bucket loads. He was Norway's biggest tax payer in 2016, earning 833 million Norwegian kroner ($102 million). And for almost two decades, he was the biggest and the best of the traders in the market, according to competitors. His golden run ended with what the exchange called a "black swan" event. At the start of last week, the difference between German and Nordic prices widened by 17 times what would happen on a normal day. Aas had a huge bet that spread would narrow.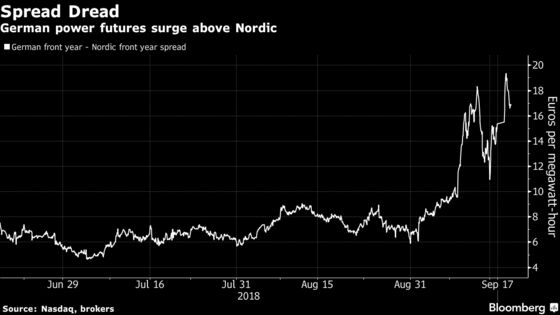 Aas was one of a kind in the Nordic market, the only individual to be a clearing member in his own name. His position was also extremely unusual in the wider financial markets after European regulators strengthened the role of clearing houses in the decade since the financial crisis.
"Nasdaq has dropped the ball on this one," said Stephen Connelly, an associate professor in law at University of Warwick and a former financial litigator in London. "It's really surprising in this day and age."
Nasdaq has announced a number of measures to prevent a recurrence of the default. It has increased the amount of margin that traders need to put up to secure trades and is close to naming an independent auditor of its practices.
The bourse is also in talks with Aas and his lawyers to recover capital from the exchange's Default Fund, which was used to shore up the market after the default. Connelly said it's "astonishing" that Nasdaq needed to use the fund built from the contributions of all its clearing members.
By Monday afternoon, banks, utilities and other clearing members on the exchange had fully replenished 107 million euros in the Default Fund, in step with the rules of the exchange. That compares with a total initial margin of 1.6 billion euros that the fund held in cash and bonds at the end of March -- the most recent data available.
Traders are still seeking answers from Nasdaq.
"It is unbelievable that one single trader could amass such extensive positions, and it seems very dangerous," said Lina Petrell, chief operating officer of Shepherd Energy AB, a fund manager in Stockholm. "We expect that Nasdaq, soon enough, will present the full picture of how this could happen."
Trading positions of the size that Aas had been allowed to build up can't be liquidated without major losses, and the normal margin requirements seemed insufficient, she said.
"A clearing house is structured and has a legal framework to manage this type of default situation," said Fredrik Ekstroem, chairman for Nasdaq Clearing. "This includes closing out the positions and isolating the losses with the possible use of collateral, clearing house capital and member-sponsored default fund resources to ensure the continued functioning of its markets."
Members of the market must also describe their risk policy and the routines they follow in clearing risk management. A spokesman for Nasdaq said the exchange regularly follows up with members regarding compliance with their membership obligations. The official declined to provide details on the checks carried out in the case of Aas.
Aas didn't respond to voicemail messages requesting comment.
Aas got his start at Interkraft Trading in Norway about two decades ago. While it was practical for Aas to keep everything in his own name at the start, his old boss from that time, Lars Eckhardt, said he was surprised that he chose to keep that setup unchanged with all the personal liability it entailed.
"When you operate on this scale and with this liquidity risk, I'm a bit surprised he hasn't done anything about that," Eckhardt said. "It would have taken him a day to register the company and maybe a week to transfer contracts."