How $1 Trillion May End Up Being a Sign of the Top: Taking Stock
(Bloomberg) -- A truly troubling start to the week, to say the least.
Monday's ~103-handle reversal from the day's peak was the widest intraday range we've seen on the S&P 500 since the meltdown began earlier this month.
The TICK index, a measure of NYSE stocks trading on a downtick versus an uptick, printed a -1734 at 3:42pm and coincided with a jarring plunge in the SPX followed by a near 40-handle bounce in the last 15 minutes of the session. That makes it twice this month (see graphic below) that massive programs mimicked the sell orders seen during the "Flash Crash" in May 2010.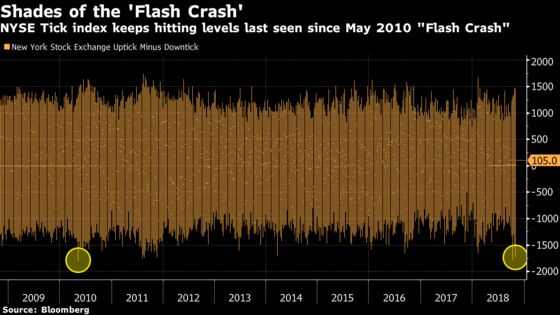 This is not anywhere close to normal, although I won't hesitate to point out that 1) stocks rallied incessantly for eight-plus years after the "Flash Crash," and 2) the S&P 500 reversed on Monday the second that it got within a few points of its long-term support at ~2,600, which is a level tested successfully multiple times this year, as the chart below shows.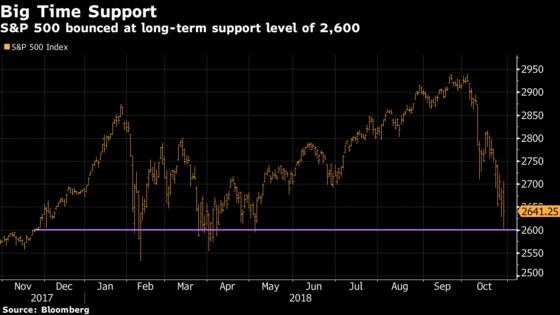 That said, the selling that we've experienced all month appears more orderly than what we saw during the early Feb. machine-driven breakdown, which lasted just over a week and was more volatility-driven than anything else.
This time around, we have a much larger laundry list of macro worries from a global growth slowdown to the deteriorating situation with the trade war (like our report yesterday that tariffs on all remaining Chinese imports may be announced in early December) that has led to a giant rotation out of growth stocks and the bull market winners and into value and any sector deemed defensive.
Tech stocks bled for most of Monday's session, as they have all month -- Amazon and Netflix have now sank more than 23% month-to-date while Facebook and Alphabet are both down 14% -- as IBM's $33 billion splash to establish a bigger footprint in the cloud didn't appear to come close to solidifying any sort of support for momentum stocks (MTUM ETF sank as much as 3.2% at one point on Monday).
Facebook reports tonight, and perhaps they'll be able to give the bulls something to cheer about, which is not an easy task given that the stock has now firmly broken below its Cambridge Analytica-scandal lows from March. Or perhaps it won't matter as money continues to come out of the FAANG complex, especially from those that have already printed results.
The only member of the FAANGs left to report after Facebook is Apple, which is starting to look precarious as its shares are quickly stumbling back to the $1 trillion market cap level after initially smashing the milestone almost three months ago.
If Apple disappoints in any way, or gets swept up in the wave of tech selling thereafter, then I'd imagine a consensus "This Is the Top" opinion forming for the broader market. If that scenario ends up playing out, then Apple passing the $1 trillion mark and the talk of who would be next (Amazon or Microsoft, now at ~$750 billion and ~$800 billion, respectively) will forever be remembered as perhaps the most momentous sign of the top to this nine-and-a-half year bull market. IBM's desperate scramble to snag Red Hat won't be too far behind, though.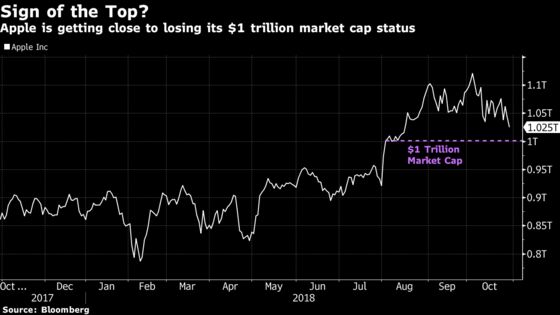 Semicap equipment, like Lam Research and Applied Materials, after solid results from KLA-Tencor
Anything housing-related as smidcaps Trex (wood-alternative decks) and Simpson Manufacturing (wood construction) both reported big revenue misses
Retail, which was a massive outperformer yesterday (XRT +0.5%) after Tapestry beat for the quarter while Under Armour is getting pre-market upticks on earnings
Consumer staples after Coca-Cola gains a percentage point and a half on a beat
Cement names after a revenue miss from Eagle Materials; note Vulcan reports later this morning
Chemicals after headline beats from LyondellBasell and Huntsman
Offshore drillers after a pair of beats from Transocean and Ensco
E&Ps after Chesapeake Energy announced it would buy WildHorse Resource (operations in Eagle Ford and Austin Chalk) in a deal valued at $3.98 billion
Sectors that may move on earnings later this morning include credit cards (Mastercard), truck machinery (Cummins), and ag machinery (AGCO)
Sectors that may move with earning over the next ~24 hours include the FAANGs and the BATs (Facebook and Baidu), semis (Maxim Integrated), cybersecurity (FireEye), video games (Electronic Arts), 3D Printing (3D Systems), auto parts (Aptiv), lodging (Hyatt), household personal care (Clorox and Estee Lauder), restaurants (Yum!), nutrition (GNC Holdings), beer (Molson Coors), solar (SunPower)
Notes From the Sell Side
JPMorgan upgrades Nvidia to an overweight after the stock's 34% plunge month-to-date, which is double the selloff in the SOX; they say investors are underestimating gaming demand strength near term and expect "outsized growth and clear leadership" in both Gaming and Datacenter/HPC segments over the next few years.
JPMorgan is also out on the airlines, arguing that the case for industry margin expansion remains the best they've seen in four years: "Most stocks are within 10% of their autumnal lows, suggesting seasonal trade-winds may lift equities as they often do." But then they add that they "can't ignore the market's recent de-rating of nearly two multiple turns," and so they make four rating changes as a result -- Upgrading JetBlue to overweight, downgrade Southwest to an underweight, and cut both United and Spirit to neutral.
BofAML is out on the transports, double upgrading Old Dominion Freight to a buy ("quality of business too good to ignore"), raising XPO Logistics to a buy after the pullback (reports earnings Wednesday post-market), and downgrading ArcBest to an underperform on cycle risk (reports Thursday post-market). The firm is also downgrading auto parts retailer Genuine Parts to an underperform as its left with an unloved asset (its office products division whose spinout to Essendant was terminated) that reduces the company's margin and growth profile.
And Morgan Stanley tries to explain the brutal selling in defense stocks yesterday (L3 Tech -8.8%, Lockheed -6%, Northrop -5%, Raytheon -4.8%), citing growing talk of budget declines for FY2020 and an unwind of well-owned stocks within the broader industrials universe as the most likely factor. Investors were "surprised for sure" by the magnitude of the selloff, though adds that Northrop management was constructive on their outlook at a dinner.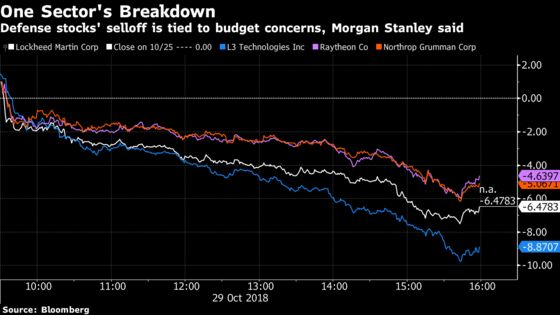 Tick-by-Tick Guide to Today's Actionable Events
Today -- IPO lockup expiry: INSP, UBX
7:00am -- AN, MAS, AMT earnings
7:30am -- CMI, HCA earnings
7:30am -- BP CFO Brian Gilvary on Bloomberg TV
7:40am -- SABR earnings (roughly)
7:45am -- AGCO earnings
8:00am -- VMC earnings
8:00am -- GE earnings call
8:03am -- MA earnings
8:30am -- KEY investor meeting
8:30am -- ECL earnings
8:30am -- KO, TPR, UA, I earnings call
8:30am -- AutoNation CEO Mike Jackson on Bloomberg TV
9:00am -- Case-Shiller Home Price Index
9:00am -- MA, RIG, BHGE earnings call
9:05am -- Starboard Value's Jeffrey Smith at Robin Hood Investors Conference
9:25am -- Starwood's Barry Sternlicht moderates "Disrupting Retail" panel at Robin Hood
9:30am -- IPOs to start trading post-open: Eton Pharmaceuticals (ETON)
9:55am -- Nokota Management's Matthew Knauer at Robin Hood
10:00am -- Conference Board Consumer Confidence
10:00am -- CMI, EAT earnings call
10:40am -- Lakewood Capital's Anthony Bozza at Robin Hood
11:00am -- FCAU earnings call
11:05am -- Oscar co-founder Josh Kushner at Robin Hood
11:35am -- Blue Ridge's John Griffin moderates a Tesla bull/bear debate at Robin Hood with Ark Investment's Cathie Wood, Vertical Group's Gordon Johnson, Global Equities' Trip Chowdhry, and "Montana Skeptic" Lawrence Fossi
1:10pm -- Sachem Head's Scott Ferguson at Robin Hood
1:30pm -- Virtu Financial's Vincent Viola interviews David Petraeus
2:00pm -- Blackstone's Gideon Berger moderates a quant fund panel with Maverick's Lee Ainslie III, Point72's Matthew Granade, and Tudor Investment's Ulrike Hoffmann-Burchardi
2:30pm -- Lakewood's Anthony Bozza moderates a short sellers "Lightning Round" with Glaucus' Soren Aandahl, Spruce Point's Ben Axler, Steamboat Capital's Parsa Kiai, and JFL Capital's Joseph Lawler
2:40pm -- T-Mobile US COO Mike Sievert on Bloomberg TV
4:01pm -- EA, FEYE, ULTI, DDD, AMGN earnings
4:02pm -- SFLY earnings
4:05pm -- FB, YELP, MXIM, FLT, SPWR earnings
4:05pm -- Blue Ridge's John Griffin moderates a cannabis panel with Green Thumb's Ben Kovler, El Faro's Benjamin Nickoll, and dosist's Gunner Winston
4:06pm -- PAYC earnings
4:10pm -- VRSK, HLF, APC (roughly) earnings
4:15pm -- EBAY, ZEN, CAKE, CHRW, RNR earnings
4:30pm -- API oil inventories
4:30pm -- BIDU (roughly), YUMC, H earnings
4:35pm -- PointState's Zachary Schreiber at Robin Hood
4:45pm -- IQ earnings (roughly)
5:00pm -- FB, EA earnings call
5:30pm -- Defense Sec. Mattis speaks on America's strategic alliances
6:00pm -- EBAY earnings call
9:00pm -- China PMIs
9:15pm -- BIDU earnings call
Tonight -- Samsung earnings
Tonight -- IPOs to price: Orchard Rx (ORTX), Twist Bioscience (TWST)