Housing, Lumber ETFs Shrug Off Best Data in More Than a Decade
(Bloomberg) -- The housing market is booming, but related exchange-traded funds don't seem to care.
Despite data showing that July new home sales in the U.S. surged to the highest level in almost 14 years, State Street's SPDR S&P Homebuilders ETF (XHB) fell as much as 1.6% on Tuesday, the most in almost a month.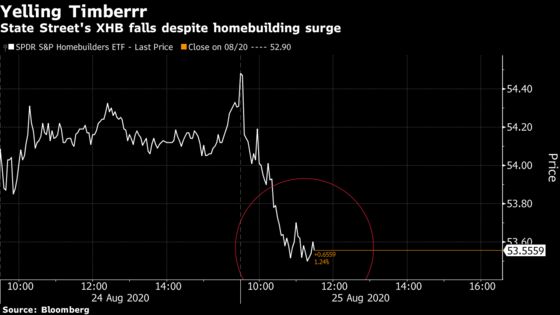 It's another example of the conflicting forces rattling the overall equities market, as some improving economic data provide tailwinds while other numbers show reason for wariness. Alongside the home sales data on Tuesday came a report showing consumer confidence in August dropped to the lowest level since 2014.
That likely hit stocks like Whirlpool Corp. and DR Horton Inc., the two largest holdings in XHB, said Mohit Bajaj, director of ETFs for WallachBeth Capital.
"With concerns of another slowdown headed into fall, many consumer discretionary names might remain under pressure," he said.
A similar story is playing out among lumber ETFs, which investors have largely ignored despite prices rising to records this month due to tightening supply and strong repair and renovation demand from consumers.
BlackRock's iShares Global Timber & Forestry ETF, ticker WOOD, has added only $23 million in August, despite rallying more than 10%. A similar product from Invesco, trading under the ticker CUT, has risen 7% this month, but had net outflows.
One reason could be lack of knowledge about the products, which could change soon, said James Pillow, managing director at Moors & Cabot Inc.
"With bonds trading at negative real yields, people are starting to search for other assets," he said. "I expect a broader basket of commodities to start to grab more of the asset allocation pie."
Nicholas Colas, co-founder of DataTrek Research, wrote in a report Tuesday that he doesn't expect the spike in lumber prices to last long, but home prices should continue to rise through the rest of the year and next. "All this is textbook early cycle market action, turbocharged by Covid-related dislocations," he wrote.