Pelosi Delays Infrastructure Vote as Democratic Rift Persists
(Bloomberg) -- House Speaker Nancy Pelosi sent lawmakers home Thursday night without voting on a $550 billion infrastructure bill, with plans to try again Friday after moderate and progressive Democrats failed to reach an agreement on the rest of President Joe Biden's economic agenda. 
Top White House officials deployed to the Capitol to meet with warring Democratic factions at odds over the size and scope of Biden's agenda, which includes a tax and spending plan totaling as much as $3.5 trillion and the infrastructure legislation. 
Moderates want to pass the infrastructure bill first, and then move forward with a sharply reduced version of Biden's spending package that won't cost as much. Progressives want the full $3.5 trillion Biden promised for new and expanded social programs and other initiatives, and have threatened not to vote for the infrastructure bill until the larger measure passes the House and Senate.
"A great deal of progress has been made this week, and we are closer to an agreement than ever. But we are not there yet, and so, we will need some additional time to finish the work, starting tomorrow morning first thing," White House press secretary Jen Psaki said in a statement.
West Virginia Senator Joe Manchin, a key moderate vote, emerged from a meeting with fellow moderate Arizona Democratic Senator Kyrsten Sinema, White House economic adviser Brian Deese and domestic policy adviser Susan Rice saying a deal was not at hand. 
Manchin said late Thursday he still wants to cut the tax and spending bill by some $2 trillion. 
"We're going to come to an agreement. I'm trying to make sure they understand, I'm at $1.5 trillion," Manchin said. "I think $1.5 trillion does exactly the necessary things we need to do to take care of our children and take care of our people at the end of life, our seniors, and we're working hard on that."
Deese and Rice spent the night moving back and forth between the two chambers, trying to resolve the intra-party differences and meeting with Pelosi and Majority Leader Chuck Schumer. But neither wing of the party appeared willing to budge.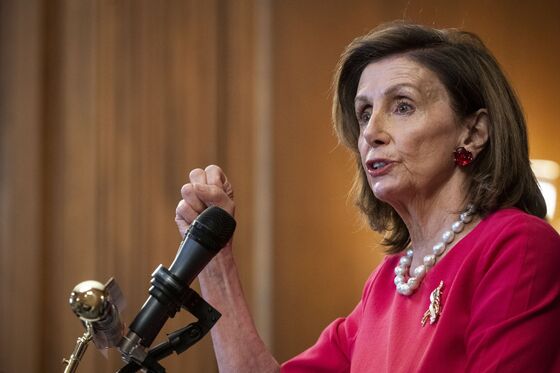 After the meeting, Representative Pramila Jayapal of Washington state, the head of the Congressional Progressive Caucus, sent out a fundraising email saying progressives need to "hold strong." 
New York Representative Jamaal Bowman said more than 50 members of the progressive group were ready to vote against the infrastructure bill.
A defeat wouldn't kill the infrastructure legislation, but it would delay progress on Biden's two-pronged economic agenda. Pelosi said she had no doubt that the bigger spending package would ultimately be enacted -- despite hitches in negotiations with the Senate over the size and scope of the measure.
While there is some Republican support for the infrastructure legislation, GOP leaders have been linking that bill with opposition to the bigger tax and spending plan Democrats are pushing.
"I think the majority, the overwhelming number of our members will vote no," House GOP leader Kevin McCarthy said.
Read More: Highway Programs Head for Lapse with Furloughs, Payment Pauses
Senator Bernie Sanders of Vermont, an independent and a leading progressive, called the House moderates' demands for a vote this week "totally arbitrary."
The infrastructure bill "will pass as soon as we have confirmation of a strong reconciliation bill that protects the needs of working families and addresses the crisis of climate change" he said. "We are talking about the most consequential piece of legislation for working people in modern history of this country."