House Defeats GOP Bid to Condemn Bernie Sanders Over Cuba Remarks
(Bloomberg) -- The House defeated a Republican effort to condemn Democratic presidential candidate Bernie Sanders for praising some aspects of Cuba's communist rule, an issue that could damage him in the swing state of Florida.
The measure was defeated on a 224-189 party-line vote Thursday, as majority Democrats dismissed it as a gimmick. But the vote could be used against House Democrats seeking re-election in closely divided districts in the November election.
Sanders defended his past praise of the Fidel Castro regime, citing a Cuban literacy program. The comments, made in a Sunday appearance on CBS's "60 Minutes," drew public rebukes from Florida Democrats like Debbie Mucarsel-Powell and Stephanie Murphy, who won seats that were previously held by Republicans.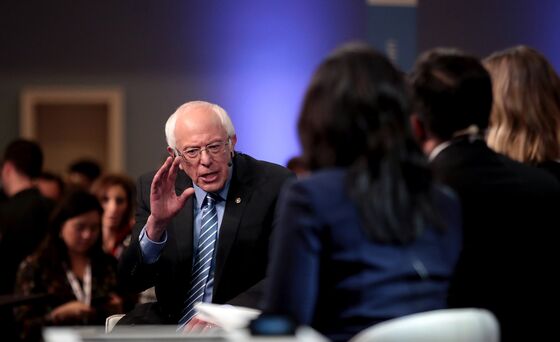 Sanders is the clear front-runner in the Democratic presidential primary, and his success in early states has prompted moderate members of the House to distance themselves from some of his policies. Some House Democrats are promising to block his most progressive proposals, such as abolishing private health insurance, banning natural gas fracking and ending enforcement of border controls.
(Michael Bloomberg is seeking the Democratic presidential nomination. He is the founder and majority owner of Bloomberg LP, the parent company of Bloomberg News.)
Thursday's Republican resolution, sponsored by Florida Representative Mario Diaz-Balart, would condemn Sanders's comments "disregarding the history of systemic human rights abuses, forced indoctrination and authoritarian actions of the literacy and education policies of the communist Castro dictatorship in Cuba."
"I remind the senator and the progressives that the Castro regime is a threat not only to the United States but to other countries throughout the hemisphere," Diaz-Balart said ahead of the vote.
President Donald Trump has also painted a threatening picture of socialism as part of his re-election campaign, accusing Democrats of wanting to turn the U.S. into another Venezuela. Sanders, an independent who caucuses with Democrats, describes himself as a democratic socialist but often compares his policies to those of Denmark and other European democracies.
"We think it is very important to remind the American people what Senator Sanders stands for," said House Republican Conference Chairwoman Liz Cheney. "Socialism extinguishes freedom."
House rules allow Republicans to offer motions like Thursday's Cuba resolution on major legislation that Democrats bring to the floor. Republicans attempted to add their measure to a resolution setting up debate on anti-vaping legislation.