Hot MedTechs Under Pressure to Top Already Sky-High Expectations
(Bloomberg) -- Medical device makers are going to have to do more than just meet already-high expectations to resume their record run.
The industry's market premium and valuations have surged in recent months, pushing the group to a seemingly endless streak of record highs, until a market sell-off this month sent the group spiraling. Shares are still expensive by historical standards, though, so Wall Street is saying further gains depend on beating the consensus forecasts.
"Going into earnings, the bar is high with multiples where they are and with elevated expectations," Robbie Marcus, an analyst at JPMorgan Chase & Co., said by telephone. "An earnings and organic top-line meet is not going to be enough. You have to exceed expectations and imply that fourth-quarter has room to go higher."
Intuitive Surgical Inc. will report after the close, with investors likely to focus on procedure growth and system placements. Large-cap peers including Varian Medical Systems Inc., Edward Lifesciences Corp. and Boston Scientific Corp. should publish earnings reports early next week.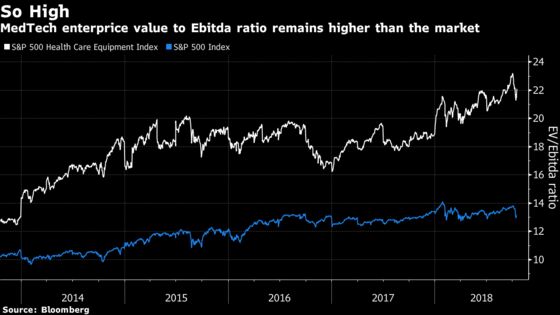 Abbott Laboratories is a prime example of the high expectations placed on the sector. The device maker reported earnings this week that beat analysts' estimates and it was rewarded with a sliding stock price thanks to a lack of guidance raise.
"When results are within expectations, you won't see a rally," Bloomberg Intelligence analyst Jason McGorman said in an interview.
Small- and medium-sized companies like Tandem Diabetes Care Inc., CareDX Inc. and Nuvectra Corp. have more than doubled this year. Results could push shares back up or punish them if they stumble. Options traders are pricing post-earnings moves for the smaller group well into the double-digits, so the pressure is on.
That said, the recent sell-off should help ease some of the pressure, McGorman said.