Hormel Cuts Forecast on Rising Pork Prices
(Bloomberg) -- Hormel Foods Corp. cut its outlook for sales and profit after an outbreak of African swine fever in China raised pork costs. The shares fell the most since August 2017.
Revenue will probably not surpass $10 billion and earnings per share will reach $1.85 at the most this fiscal year, the maker of Spam canned meat and Skippy peanut butter said in a statement, down from earlier peak estimates of $10.2 billion and $1.91 a share.
The company will respond with price increases across a number of segments, including the groceries division, which also makes Dinty Moore stew.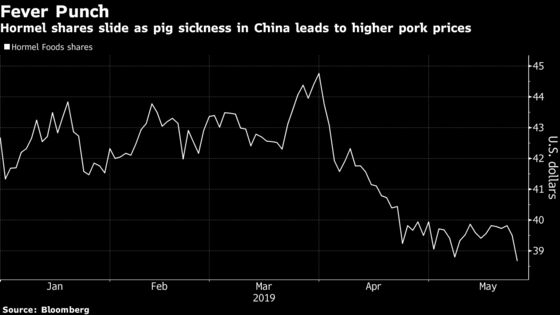 Pork prices have swelled as China struggles to contain a nine-month-long outbreak of African swine fever -- a contagious disease that kills most infected pigs within days. Hormel said after the cost increases of the past quarter it's bracing for "volatile" pork prices ahead.
The swine fever is the "biggest unknown in the protein industry," Chief Executive Officer Jim Snee said on a call with analysts after the results were released. Finance chief James Sheehan said hog prices will rise 10% to 30% from current levels.
Hormel shares tumbled as much as 6.3% to $37 in New York Thursday, the biggest intraday decline in 21 months. They had already slid 7.5% this year through Wednesday's close.