Hopewell Surges as Developer to Go Private for $2.7 Billion
(Bloomberg) -- Hopewell Holdings Ltd. shares surged in Hong Kong trading Thursday on news the chairman aims to take the property developer private as an almost 15-year bull run in home prices shows signs of coming to an end.
Stock in Hopewell jumped 32 percent in early trade, the most in more than 30 years. An announcement to the stock exchange late Wednesday outlined Chairman Gordon Wu's plans to take the real estate firm private for HK$21.3 billion ($2.7 billion). The bidding group is offering HK$38.80 per share, 47 percent more than last Friday's close.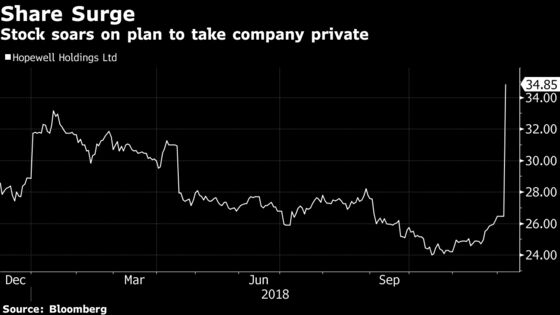 Hopewell, which develops and invests in residential and infrastructure projects in Hong Kong and the Pearl River Delta, is facing property slowdowns in both the city and China. A "year of recession" is among the bearish forecasts for China's housing market next year, while a slide in home prices is already underway in Hong Kong.
Midland Realty said last week that new-home sales in the former British colony in November were on track to be the lowest by volume since January or February of 2016. Used-home prices have meanwhile fallen for eight weeks, the longest losing streak since 2016, according to the Centa-City Leading Index.
Goldman Sachs Group Inc. is forecasting a 15 to 20 percent decline over two years as Hong Kong's interest rates rise in tandem with the U.S., according to a research report released last week.
Wu, who's aged in his early 80s, helms a property firm that traces its involvement in Chinese projects back to the nation's economic opening up in the late 1970s. Listed since 1972, the company's name is also associated with Hong Kong landmarks such as the Hopewell Center skyscraper.
Last December, Hopewell agreed to sell stakes of its highway infrastructure unit for HK$9.87 billion, with the proceeds used to fund its property projects. Some of the money was also used to strengthen working capital, plus make new investments in Hong Kong and on the mainland, particularly around the Guangdong-Hong Kong-Macau Bay area.
The bidding group is being financed and advised by Citigroup Global Markets Asia Ltd. Wu and his family already own a 36.9 percent stake.