Hong Kong Wealth Assets Seen Doubling in China-Fueled Expansion
(Bloomberg) -- Hong Kong's wealth managers expect to double the money they handle over the next five years, benefiting from China's rich looking to diversify their holdings.
Assets under management will hit about $2 trillion by 2023, and non-banks, boutique advisers and wealth technology firms will win market share from traditional managers, Hong Kong's Private Wealth Management Association said in a report published with KPMG China on Wednesday. Almost half the wealth will come from China, according to the survey.
Global banks are competing with local rivals in Hong Kong, which is seen as a gateway to the mainland and competes with New York as home to the most billionaires, according to the PWMA. China had just over 1.2 million millionaires in 2017 and more are being minted across Asia -- almost 2,000 each day -- data from Capgemini SE show.
"There's a lot of wealth creation in mainland China in particular, but Asia more generally," Paul McSheaffrey, head of banking and capital markets for Hong Kong at KPMG China, said by phone. "Hong Kong, started as a wealth management center, sees itself as well-positioned to take advantage of that in terms of new wealth coming in to be managed."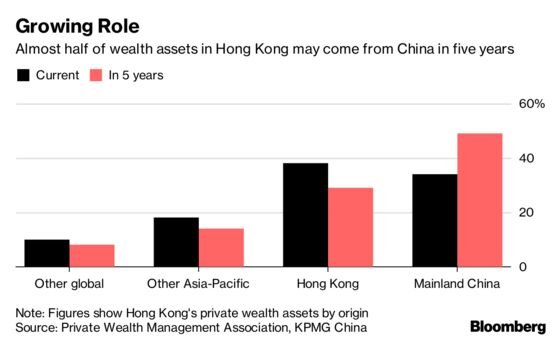 About 58 percent of wealth managers predict the industry's assets under management will grow 10 percent to 20 percent each year through 2023, the PWMA's survey found. Roughly 81 percent of respondents said the stock trading link, which allows investors to buy and sell Chinese stocks via Hong Kong, is a key differentiator for the city.
The expected growth surge may exacerbate Hong Kong's shortage of relationship managers, the survey found. Two-thirds of the respondents said a "limited talent pool" was the biggest supply-side constraint.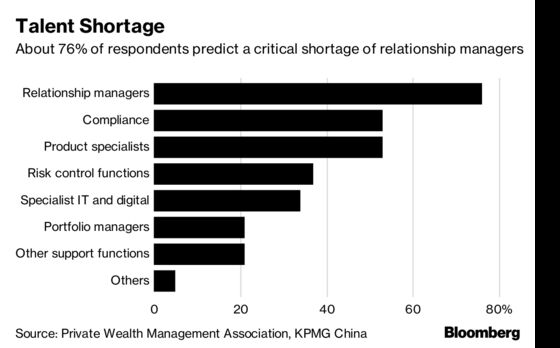 Asia's wealth management industry is dominated by global banks such as UBS Group AG, Citigroup Inc. and Credit Suisse Group AG, while firms including DBS Group Holdings Ltd. and BOC Hong Kong (Holdings) Ltd. are building up. By 2023, the market share of external asset managers such as non-banks and boutiques will rise to as high as 20 percent from less than 5 percent now, according to the survey. New technology entrants, which hold a minor slice of the pie, will see their share increase to some 10 percent.
"There's a window of opportunity that the general growth in wealth in the region represents, and in particular in Greater China," said Peter Stein, managing director of the PWMA.
The report is based on an online survey of 37 of its 45 members, as well as interviews with industry executives, family offices and regulators.