Hong Kong Traders Love Chinese Firms Raising Funds at Home
(Bloomberg) -- For Hong Kong's Chinese companies, selling shares back home is a sure-fire way to boost their stock's valuation.
The city's investors are rewarding Chinese firms with plans to raise funds onshore. Semiconductor Manufacturing International Corp. more than doubled in Hong Kong ahead of its Shanghai debut, while Geely Automobile Holdings Ltd. and Dongfeng Motor Group Co. have risen as much as 38% after saying they would sell shares on the mainland.
Chinese companies are increasingly looking at home to list as U.S.-China tensions have made a New York listing less desirable for some while reforms are boosting the attractiveness of mainland markets. There, stocks typically trade at higher valuations than in Hong Kong. The big recent gains in the city for Chinese firms planning domestic listings have the market betting on who may be next.
"Having an A-share listing is a clear trend and a big focus in the Hong Kong market," said Kenny Wen, a strategist at Everbright Sun Hung Kai Co. "It's an attractive option as it helps a company raise money for capital spending, increases a firm's profile and could boost shares in Hong Kong."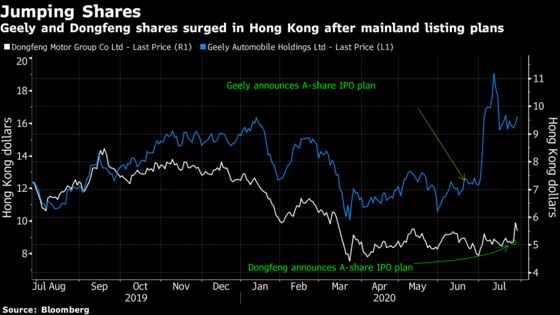 Most offerings by already-public firms are likely to occur on the ChiNext and Star boards, where China's listing reforms have been centered. Shares on both led Wednesday's market rebound there. SMIC trades on the Star board in Shanghai, and Geely and Ant Group plan to do the same. Dongfeng is seeking to list on the ChiNext in Shenzhen.
Investors and analysts are expecting companies with big capital demands, along with technology and health care firms, to be lured to raise funds onshore.
Here is a list of potential candidates discussed by analysts:
The impact of mainland listing for Hong Kong shares of China Mobile Ltd. and China Telecom Corp. would be "debatable," Jefferies Hong Kong Ltd. analysts including Edison Lee wrote in a recent note. But SMIC's deal "has created significant excitement," while the premium that China United Network Communications Ltd. enjoys in Shanghai shows the possibilities.
China Mobile and China Telecom were listed in Hong Kong in 1997 and 2002, respectively. But they, and China Unicom Hong Kong Ltd., all trade at less than their book value in Hong Kong. Meanwhile, United Network, a shareholder of Unicom, trades at 1.1 times book in Shanghai.
China International Capital Corp. analysts have cited 11 health care firms traded in Hong Kong which meet the criteria to also have a mainland listing. They include WuXi Biologics (Cayman) Inc., Sino Biopharmaceutical Ltd. and Ping An Healthcare and Technology Co. All three stocks have been sharp outperformers this year, rising at least 37%.
Kingdee International Software Group Co. is also among the mainland listing candidates cited by CICC and Everbright Sun Hung Kai. "Its market cap meets the requirement and it has that capital demand," said Wen of Everbright. Kingdee issued a profit warning this month, citing reasons including increasing investment in cloud-related products. Still, its shares have surged 161% this year.
Investors are speculating high-speed train manufacturer Zhuzhou CRRC Times Electric Co. could spin off some of its chip business and list it on the Star board, according to two traders who asked not to be named. Shares sharply underperformed last year in Hong Kong, skidding 35%. Revamping and expanding a chip-module production line was one of the company's biggest investments last year, according to its annual report.