Hong Kong's Richest Family Seizes Russian Spoils
(Bloomberg Opinion) -- Telecoms in Italy is among the least loved sectors in one of Europe's least loved markets. For Victor Li, the newly appointed chairman of Hong Kong conglomerate CK Hutchison Holdings Ltd, it's also fertile hunting ground for cheap assets.
Hutchison on Tuesday agreed to buy partner Veon Ltd.'s 50 percent share in their mobile joint venture Wind Tre Spa for 2.5 billion euros ($2.9 billion). The price ascribes an enterprise value of about 15 billion euros.
Bulking up in Italian telecoms may look unwise, given the sector's chunky capital spending needs and the entry of ultra-low cost French upstart Iliad SA. But the purchase price equates to about 7 times Ebitda for the past 12 months. That leaves plenty of margin for error.
Recent European mobile deals have been concluded at similar multiples. Factor in the tax credits accumulated from running up years of losses, plus the cost cuts yet to be realized from the original joint venture plan, and the acquisition valuation drops further.
For Veon, the former VimpelCom in which tycoon Mikhail Fridman's LetterOne has a 48 percent stake, an exit at any price will come as a relief. The company has a stack of problems hanging over it: excess debt, a confused portfolio combining developed-world and emerging-market assets, the lack of a CEO, and investor aversion given its Russian ownership and exposure. The deal addresses the first two of these, providing proceeds to cut debt to below 2 times Ebitda, while recycling capital from Italy into assets in Pakistan and Bangladesh.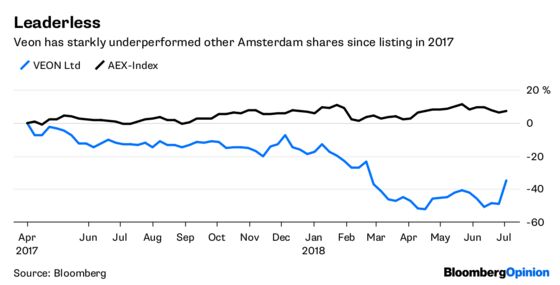 A 19 percent jump in Veon's share price on Tuesday still leaves the stock down about one-third since the company's IPO. Perhaps the stronger balance sheet and clearer focus might help it find someone to take on the challenge of running it.
Li seems to see better value outside of Hutchison's domestic market right now. The Italian deal comes after the purchase of Swiss bank UBS AG's London headquarters and the proposed takeover of Australian gas pipeline company APA Group. But finding sellers as eager as Veon might be hard to repeat.