Hong Kong's No. 2 Tech IPO Is Said to Draw Tepid Retail Demand
(Bloomberg) -- Meituan Dianping, the Chinese restaurant review and delivery giant, received a tepid response from individual investors for a Hong Kong initial public offering that's seeking to raise as much as $4.4 billion, people with knowledge of the matter said.
Retail stock buyers placed orders for around 1.5 times the total amount of stock available to them, according to the people, who asked not to be identified because the information is private. Meituan initially set aside five percent of the deal for such investors.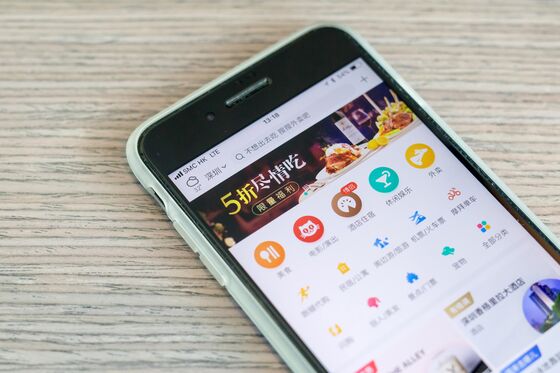 Meituan, which is attempting the second-biggest tech IPO ever in Hong Kong, attracted less excitement from individual investors than other large listings from the industry. In June, the retail portion of Chinese smartphone maker Xiaomi Corp.'s IPO was 9.5 times covered, data compiled by Bloomberg show. Ping An Healthcare & Technology Co. attracted orders for 654 times the amount of stock initially available to retail investors for its April IPO.
The portion of Meituan's stock sale set aside for institutional investors was oversubscribed as of Wednesday morning, the people said, asking not to be identified because the information is private. Meituan's IPO arrangers, which are offering the shares at HK$60 to HK$72 apiece, told potential investors the deal is expected to price in the upper half of that range, the people said.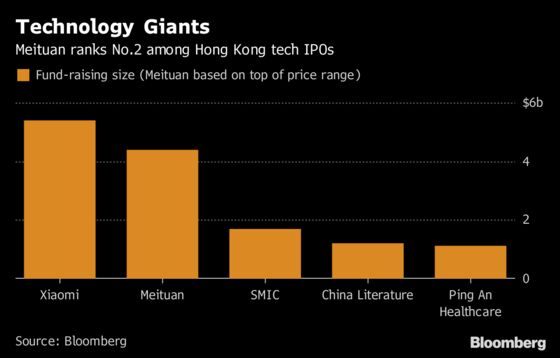 The final pricing is scheduled on Thursday and the shares will start trading on Sept. 20. An external representative for Meituan declined to comment.
Meituan is taking orders for its share sale as Hong Kong's benchmark Hang Seng Index entered into a bear market this week. The disappointing performance of companies that debuted on the main board this year, which have dropped an average 22 percent from their IPO prices, also adds to the cautiousness.
Hong Kong's short-term borrowing costs -- usually go up during major IPOs on heightened cash demand -- have been steady. Hong Kong's one-month interbank rate has declined by five basis points since Meituan started taking retail orders on Sept. 7, compared with a jump of 33 basis points during the Ping An Healthcare's offer in April.