Hong Kong Hit by Rush-Hour Chaos After Glitch Delays Trains
(Bloomberg) -- Hong Kong's metro trains suffered delays due to a rare, simultaneous signaling glitch on four of its lines, causing chaos at stations and inconveniencing thousands of commuters during the morning peak-hour rush.
The Asian financial hub's rail operator, MTR Corp., said three major lines and a fourth one had to be operated manually early Tuesday, slowing down trains and extending journey times by as much as 40 minutes. Around mid-day, the company said all services have been restored to their normal schedules after a temporary fix to the issue.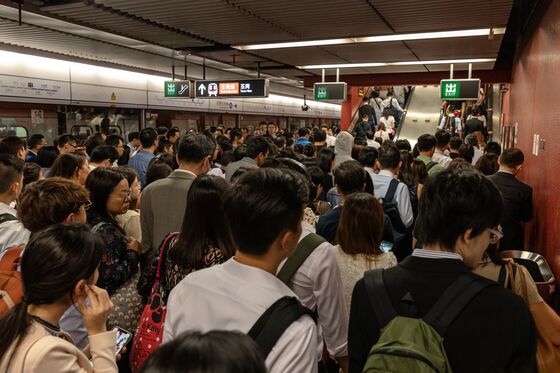 The MTR is the backbone of the city's transportation, carrying an average of about 5.8 million passengers on a weekday, according to the company's website. The delays resulted in packed trains, forcing commuters to look for buses and taxis. Singapore, another Asian city known for its efficient public transport services, received a knock in August last year when faulty signaling resulted in disruptions.
Shares of MTR declined 0.3 percent to HK$38.70 as of 12 p.m. on Tuesday in Hong Kong.
Lau Tin-shing, director of operations for MTR, told reporters that switching to manual controls reduced the frequency of the trains to once every 12 to 15 minutes.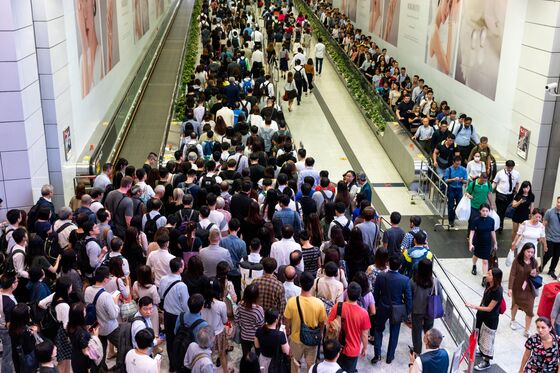 "It only provides around 20 to 30 percent of the services we normally provide during peak hours," Lau said, apologizing to the public. MTR, which is still investigating the cause, will make sure the network remains stable when commuters head back home later Tuesday, he said.
MTR's Island, Kwun Tong, Tsuen Wan and Tseung Kwan O lines were affected. At some stations, the operator halted escalators to curb further inflow of passengers into crowded platforms, as people waited for more than 30 minutes with umbrellas in hands and hunched over their mobile phones.
Under an agreement between MTR and Hong Kong's government, the operator needs to pay a fine if there are delays of more than 31 minutes. A 10-hour service disruption on the Kwun Tong line last year, again the result of a signaling fault, led to a HK$2 million ($255,225) penalty. The government is MTR's biggest shareholder.