Hong Kong Biotech Stock Suddenly Loses Almost Half its Value
(Bloomberg) -- A Chinese biotech stock suddenly plunged as much as 47 percent in Hong Kong, attracting more turnover in the morning session than most stocks do in an entire day.
While Genscript Biotech Corp. had pared losses to 27 percent before trading was suspended at 11:32 a.m., the decline wiped off about $1 billion from the company's market value. Local media cited a bearish report from an anonymous research group that was shared on Chinese social media, though it wasn't available on the group's own website. An emailed request for confirmation that they had written the report bounced back and no phone number was provided. Calls to Nanjing-based Genscript went unanswered.
Activist short sellers have swept Hong Kong for targets in recent years, with some alleging that links between equity markets in the city and China facilitate stock manipulation. Recent casualties include Chong Sing Holdings FinTech Group Ltd. and Hosa International Ltd., both of which slumped after researchers questioned their financial reporting.
"There are increasingly more and more such short reports against companies listed in Hong Kong," said Kenny Wen, Hong Kong-based strategist at Everbright Sun Hung Kai Co. "Some mainland companies have unique ways of doing businesses and some people tend to think some are dodgy and contain fake information. You can't say the biotech sector has a bigger problem just because of an unverified short report."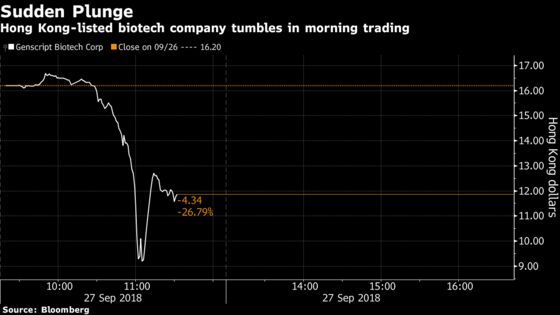 Genscript didn't give a reason for the trading suspension. Another Hong Kong stock, Grace Wine Holdings Ltd., on Wednesday closed 74 percent lower on no apparent news.
The tumble comes just months after Hong Kong's exchange operator said it would welcome companies with no record of profit or revenue to list, announcing plans to lure early-stage drug developers from China to the city. But the first biotech firm to take advantage of the new rules -- Ascletis Pharma Inc. -- has lost more than 40 percent since its debut, while a vaccine scandal in China has weighed on the health care sector more broadly.
Genscript, which debuted in Hong Kong in December 2015, surged 440 percent last year to be the third-best performer on the Hang Seng Composite Index. Short interest was about 14 percent of free float as of Sept. 25, according to IHS Markit Ltd. data. The stock is eligible for trading through a link with exchanges on the mainland, though southbound trading was shut Thursday ahead of next week's holiday onshore.
Short sellers borrow shares, sell them, and then aim to buy them back at a lower price to pocket the difference.