Honeywell's China Risk Mars Sales Boom in Jet Parts, Automation
(Bloomberg) -- Honeywell International Inc.'s robust sales growth, spurred by aerospace and warehouse-automation demand, is running into a problem from trade tensions with China.
Honeywell flagged potential costs in the "hundreds of millions of dollars" from higher Chinese and U.S. tariffs, which it intends to mitigate by raising prices and changing some suppliers. Sales already are beginning to slow in China, said Chief Executive Officer Darius Adamczyk in a conference call with analysts.
Although Honeywell expanded its Chinese market in the third quarter, it wasn't "the double-digit pace that we saw earlier in the year," he said. "So that's probably my No. 1 area to watch. I wouldn't say I'm concerned about it yet, but certainly an area of focus."
China didn't prevent Honeywell from reporting organic sales growth of 7 percent in the third quarter, the biggest increase for the company since 2011. A robust U.S. market is driving demand for the company's warehouse automation equipment and aerospace parts including jet engines and cockpit controls, the company said in a statement Friday.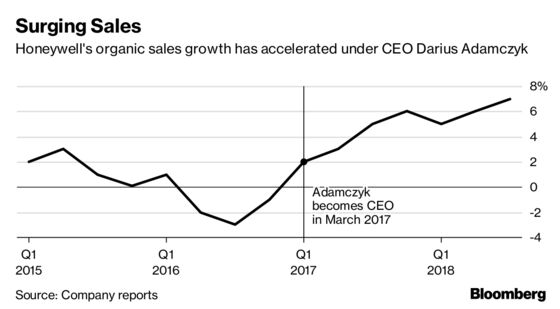 The momentum is continuing into the fourth quarter with the company forecasting organic sales, which strip out the impacts of acquisitions, divestitures and foreign exchange, to rise as much as 6 percent. Honeywell said that it expects "continued strength across major end markets" in 2019.
Honeywell shares fell 0.4 percent to $154.57 at 11:39 a.m. in New York.
So far, Adamczyk has delivered on his main focuses of revving up sales growth and boosting profit by reducing working capital. Organic sales growth has been 5 percent or better since the third quarter following Adamczyk's ascent to CEO in March 2017, rebounding from declines in 2016. In the last year, the company has slashed working capital by $600 million.
Adamczyk also announced last year he would spin off two low-growth businesses. An automotive turbocharger unit began trading as a separate company on Oct. 1. The spinoff of its home products business, which includes the iconic Honeywell thermostat, will be completed on Oct. 29.
Adamczyk kept a commercial buildings unit that sells systems including for security, fire and energy management. That unit posted organic sales growth of only 1 percent in the quarter, partly dragged down by lower Chinese demand for air and water purification.
Honeywell reduced its 2018 earnings per share forecast to $7.95 to $8 from $8.10 to $8.20 because of the lost profit from the spinoffs. Excluding the impact of the splits, guidance would have increased to $8.22 to $8.27, Honeywell said in a slide presentation.