Honest Co., Affirm Among Once-Hot IPOs Stung by Selloff
(Bloomberg) -- The market selloff is stinging some of the hottest stocks to recently go public.
Jessica Alba's The Honest Co. tumbled below its initial public offering price for the first time on Tuesday, a week after the stock surged by 33% in its debut. Other listings like Airbnb Inc., Affirm Holdings Inc., DoorDash Inc. and Coinbase Global Inc. also slid after hot debuts during the past year's rally.
The weakness in some recent debuts could damp enthusiasm for offerings still in the pipeline, with at least seven IPOs expected to price this week, according to data compiled by Bloomberg.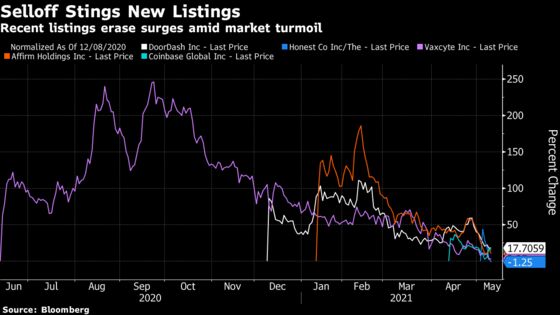 Affirm, the consumer lender, briefly fell below its IPO price on Tuesday, dropping under $49 less than four months after shares surged by 98% in their debut session -- one of the biggest pops since the 2008 financial crisis. Shares finished the session at $55.45.
Vaccine developer Vaxcyte Inc. did the same, dipping below its June 11 IPO price of $16 for the first time on Tuesday before recovering some ground and finishing the day higher. The stock is about 70% below its intraday high set in September.
Airbnb slid another 2.7% on Tuesday, bringing its decline over the past five sessions to 15%. That's the worst stretch of that length since Airbnb went public in December. In a note on Tuesday, Jefferies analyst Brent Thill blamed the sector's selloff for part of Airbnb's weakness this year.
"Despite solid 4Q results, its stock is down 29% since the print and flat year-to-date due to contracting multiples across tech, combined with final lockup expiration on May 17th and increasing investor concerns about sustainability of growth, longevity of use-cases that emerged from the pandemic, and inventory availability. Short term we believe the stock is in a holding pattern given these overhangs."
DoorDash on Monday had its worst session since going public in December. The shares have lost more than a third of their value from their intraday high in January and are within about 20% of their IPO price, despite an 86% pop in their debut session. They rose 3.4% on Tuesday, recovering from another opening trade in the red.
Coinbase, the cryptocurrency exchange that went public via direct listing in April, also closed higher after tumbling intraday. Shares set a new low before the weekend.