Homebuilders Take Longer Than Ever to Finish as Backlogs Mount
(Bloomberg) -- Homebuilders appear to be taking longer than ever to get from start to finish.
The number of houses in the U.S. that remain under construction exceeded the number of those completed by the most on record in September, according to Commerce Department data released Tuesday. It's the fourth month in a row that so-called completions have lagged.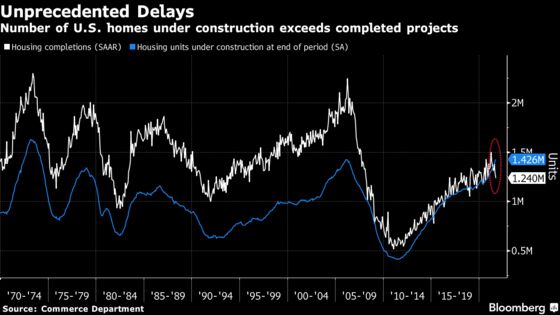 A coronavirus-fueled rush to the suburbs and other low-density areas supported housing demand and construction through late 2020 and earlier this year. But recent supply-chain pressures and labor shortages have extended construction timelines as inundated builders try to catch up on overdue projects.
The number of houses under construction rose 1.3% to a rate of 1.43 million units, the highest since 1974. Completions fell 4.6% to a rate of 1.24 million units, the lowest since August 2020, the data showed.

The elevated backlog comes as the supply of properties available in the resale market remains depressed, contributing to double-digit price increases that have sidelined some prospective buyers. Data on sales of existing homes and inventory will be released Thursday.