Homebuilder Blues May Breathe Life Into 'Hope Trade' Stock Rally
(Bloomberg) -- Homebuilding stocks have been taking a beating for the past two months, but the suffering might pay off.
One analyst thinks the sector's summertime underperformance, driven by fears of a housing slowdown, may amplify the group's seasonal "hope trade," in which investors buy up builder stocks in the winter and early spring in anticipation of robust demand.
"The odds of outperformance increase further (17 of the past 20 occurrences) when homebuilders have collectively underperformed the market in the summer period," Raymond James analyst Buck Horne wrote in a note to clients. "The conditions are ripe for another successful 'Hope Trade' season."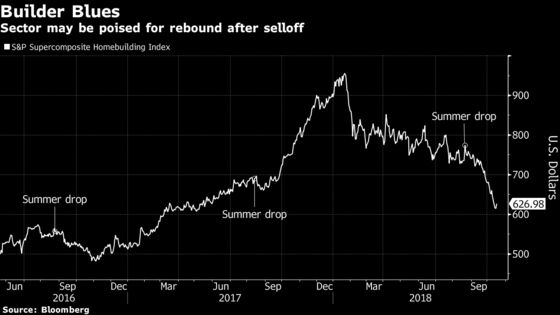 On average, this seasonal phenomenon has led homebuilders to outperform the S&P 500 Index by 14 percent during the past 33 years, according to Raymond James. But it gets better. When the sector has trailed that benchmark by more than 20 percent leading into the hope trade, which it has this year, it has subsequently outperformed by 23.4 percent on average.
The idea behind the hope trade is to own homebuilders for the start of third-quarter earnings season and the first week or so of fourth-quarter results, which typically coincides with the beginning of the spring selling season, Horne said. This is when industry optimism often hits "peak hope" and the sector posts its strongest performance due to the timing of home deliveries.
The rebound may already be starting. The S&P Supercomposite Homebuilding Index rose as much as 2.1 percent Tuesday, the most intraday in about a month, with all 15 members posting a gain of at least 0.7 percent. Confidence among U.S. homebuilders unexpectedly climbed in October, making for the first increase in five months, according to a report Tuesday from the National Association of Home Builders/Wells Fargo.
Despite strong job growth and rising median home prices, builder stocks have fallen to near-recession levels in recent months amid anxiety about more interest-rate hikes, dwindling affordability and higher construction costs, the analyst said. But this may not be totally warranted.
"Recent feedback from many of our clients seems to suggest that investor sentiment around housing stocks is reaching a bearish crescendo," Horne wrote. "Builder valuations are discounting a near-imminent recession scenario with implied downside suggestive of the troughs of the financial crisis – despite a markedly less risky fundamental backdrop."