Millennial, Gen Z Shoppers Head to Malls: Black Friday Update
(Bloomberg) -- Welcome to Black Friday -- retailers' favorite time of year.
With the U.S. economy strong, forecasts are signaling massive sales from Thanksgiving to Cyber Monday, and early signs say those rosy outlooks are spot on. But you might not know it if you're standing in a mall: Much of this year's frenzy will take place online instead.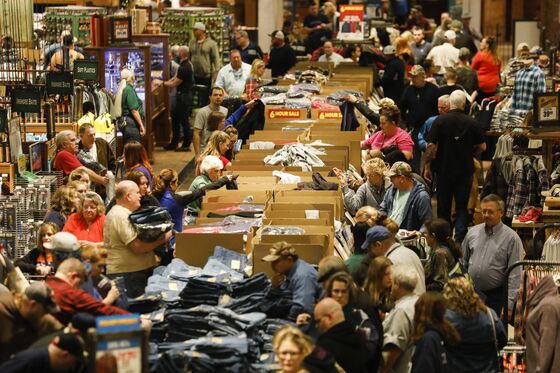 This weekend's outcome is important to retailers still trying to shake off the idea of a selective Apocalypse ahead. Shares of some big-box retailers like Walmart Inc. have been under pressure as Wall Street worries about compressed margins and hefty spending to compete online. So good or bad, Black Friday could be an early indication of what awaits the industry in the coming months.
Here's a look at the latest information available, with all time stamps reflecting the U.S. East Coast:
Young Shoppers Come Out in Droves (3:36 p.m.)
In-person mall checks conducted by Cowen & Co. analysts reaffirmed their overall expectation for holiday sales to grow by as much as 5 percent. They were most impressed with traffic and controlled promotions Walmart, Kohl's and Macy's, and called Walmart the "relative winner'' compared to Target when it comes to selling video game systems, TVs, laptops and Chromebooks.
When it comes to specialty retail, American Eagle Outfitters had a noticeable uptick in foot traffic by younger shoppers, Cowen analysts wrote.
Bill Park, partner at Deloitte, also noted the influx of millennial and Gen Z shoppers at physical stores. At the King of Prussia mall near Philadelphia, which houses more than 400 stores, Park said chains that catered to those generations were packed immediately. "The thing that surprised me most was the number of groups of college-aged young men that were out at 6 a.m.,'' he said in an email. "While I expected to see groups of young women -- and there were many -- I didn't expect to see so many men.''
According to Park, who was at the mall from its opening at 6 a.m. until about noon on Friday, ninety percent of the people there that early were younger shoppers. "When the stores opened up at 6 a.m., they really ran and they knew where they were going,'' he said. "By the time I left around noon, the traffic really built up, and you had to wait in line to go up the escalators.''
Afternoon Looking Busier on Cold East Coast (1:34 p.m.)
The retail shopping spree got off to a slow start in the Northeast, where frigid temperatures pushed some consumers online or delayed their trips to the mall. But by noon on Friday, the parking lot was packed at the Providence Place Mall in Rhode Island, according to Craig Johnson, president of the research firm Customer Growth Partners. They came ready to open their wallets, he said.
"They're not just shopping, they're buying -- they're on a mission," he said in an interview. "Weather doesn't diminish demand, it defers demand."
At Wrentham Village Premium Outlets in Massachusetts, the parking lot was so full by early afternoon that cars were parking on the grass.
Customer Growth Partners, which had close to 20 analysts in the field across the U.S., predicted that retail sales during the holiday season would climb 5.1 percent from last year, with an estimated $60 billion spent during the four-day Thanksgiving weekend, excluding Cyber Monday. Black Friday itself has seen its importance diminish, as shoppers use their phones and computers to take advantage of deals throughout the weekend, but signs are pointing to strong sales this year, Johnson said.
"What we're seeing is fully consistent with the initial forecast," he said.
Web Glitches Annoy Some Shoppers (12:32 p.m.)
E-commerce may be more important than ever before, but some companies are having trouble keeping up with the increased demand.
J. Crew, Lululemon and Walmart all reported varying degrees of glitches on their websites as traffic ramped up, enraging customers trying to snag good deals without putting on their coats.
As shopping moves online, initial store traffic for Thanksgiving and Black Friday "was in line with our expectations" but appears softer than last year, KeyBanc analysts wrote in a note. Initial winners in the foot-traffic war appear to be Old Navy, Walmart and Bath & Body Works.
"These retailers had doorbuster promotional items that resonated strongly with consumers," the analysts said.
Sales seemed "a little soft" at Nordstrom and Victoria's Secret, while they were in line at Target, Urban Outfitters and Gap, according to KeyBanc.
Kohl's Hit Thanksgiving Sales Record: CNBC (12:13 p.m.)

Kohl's Inc. Chief Executive Officer Michelle Gass told CNBC that the company hit record sales for Thanksgiving, with 80 percent of online traffic coming from mobile devices. She said Kohl's is benefiting from store closures from chains like Bon-Ton and Sears.
Early Data Starts to Trickle In (10:52 a.m.)
Some initial Black Friday numbers are in, and so far, the industry's optimistic expectations seem to be playing out.
According to Adobe Analytics, as of 10 a.m., $643 million has been spent online, up about 28 percent year on year. Digital spending is on track to exceed $6.4 billion on Friday -- maybe even surpassing last year's Cyber Monday totals, it said.
The hottest electronics, according to Adobe, include Samsung TVs, Dell laptops and GoPro cameras. For toys, Hot Wheels and Hatchibabies are most in-demand, while gamers are snapping up Red Dead Redemption 2 and FIFA 19.
Including in-store buys, consumers are expected to spend around $59.6 billion on Black Friday alone, according to GlobalData Retail. That's up by 5.7 percent from last year and is the best rate of growth since 2011, when the nation was emerging from the financial crisis.
"More people have already shopped than at this point last year, and their average spend is higher,'' said Neil Saunders, managing director of GlobalData Retail, noting that there's more turnout from lower-middle and lower income shoppers this year.
Brooklyn's Atlantic Terminal is emblematic of what the Black Friday weekend has become with a late-arriving crowd. Thanks to extended hours on Thanksgiving and loads of deals online, malls aren't flooded with shoppers when the doors open. The crowds usually get larger in the afternoon, with people still expecting to land deals.
At the GameStop, which opened on Thursday at 3 p.m., PlayStation 4 had already sold out at around 9 a.m. on Friday. And popular video games such as "God of War" and "Horizon" were gone, too. And there were only a few Nintendo Switch bundles left.
Macy's CEO Takes 'Longer View' on Share Prices (10:46 a.m.)
Jeff Gennette, chief executive officer of Macy's Inc., said his company is "well positioned" to repeat last year's strong fourth-quarter performance.
Speaking to Bloomberg TV from Macy's flagship New York location, Gennette sought to reassure investors, some of whom ditched the stock after the company's latest earnings report. Like many retailers, the company's margins have been compressed by higher wages, transportation costs and the expense of expanding e-commerce.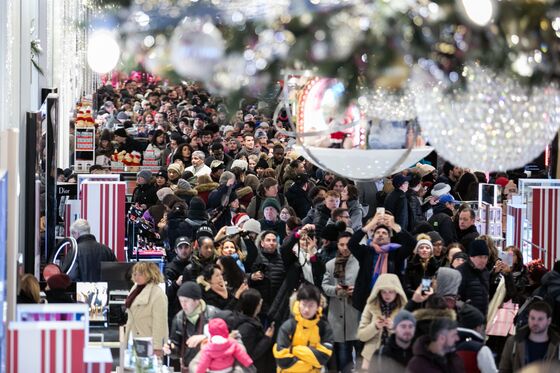 "We're really working on our merchandise margins" and offsetting increased shipping costs, he said. "But overall, you will see improvements in years to come."
Gennette said Macy's is focusing on market share and has aggressively sought to capture talent and shoppers from the liquidated Bon-Ton Stores.
"Over time as we take more market share and do it at profitable levels, I know that the brand is going to win and the stock price will go up. So I'm taking a longer view of this," he said.
The Macy's New York flagship location, which opened its doors to the crowds at 5 p.m. Thursday, saw heavier foot traffic than last year, while online sales "started early and it started robustly," Gennette said. Popular items include cold weather products and jewelry.
East Coast Malls Say It Looks Like 2017 (10:10 a.m.)
More than 62 percent of malls managed by JLL on the East Coast reported seeing the same volume of foot traffic this year as in 2017, with nearly 13 percent reporting even less Black Friday activity than last year. None of the 60 property managers surveyed reported that bad weather was having a major impact on sales by keeping buyers away, suggesting something else is at play -- likely the proliferation of online sales that let shoppers avoid the traffic.
Apparel seems to be the bigger driver to malls this year, as opposed to electronics, the survey found. Clothes, which many shoppers still want to try on and touch before buying, are harder to choose online than TVs or gaming consoles.
Deals Are Better This Year Than Last Year (9:51 a.m.)
Numerator, a retailing consultancy, reports that chains are offering deeper discounts than a year ago, according to a review of more than 10,500 promotions from 17 retailers on Black Friday. The average discount is almost 48 percent off this year, higher than last year's 45 percent, Numerator said.
Office Depot, Staples, J.C. Penney and Target in particular were offering bigger sales than last year, it found.
Not All Stores Mobbed on Friday Morning (9:25 a.m.)
While some outlets were crowded as usual, other locations were unusually quiet for Black Friday -- perhaps a sign of how important online shopping has become for retail.
At a Chicago Target there were still dozens of empty parking spaces, while the modest crowd of shoppers moved through the store without any sense of rush or urgency. In Brooklyn, crowds were sparse at the Atlantic Terminal shopping mall. An employee said it was clearly less crowded than last year and felt about the same as a normal weekend.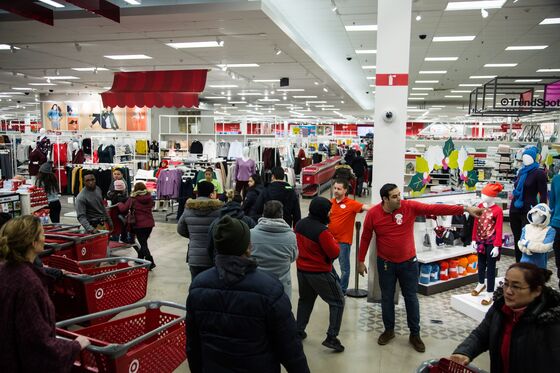 Retail Group 'Very Bullish' on Holiday Sales (9:25 a.m.)
The National Retail Federation, which measures the holiday season from Nov. 1 to Dec. 31, has high expectations, given a strong economy, rising consumer confidence and low unemployment.
"We're very bullish on this holiday season," NRF President Matt Shay said in an interview on Bloomberg TV. "All the ingredients are there for this to be exceptional relative to recent memory."
Retailers have been hiring in record numbers, Shay said. Consumers will likely spend an average of $1,000 this season, the most ever, he said.
Crowds Lined Up for IPad Mini Deal, $10 Teddy Bears (5 a.m.)
At the newly-remodeled Target in Westbury, New York, the crowds were largely the same size as last year, although cold weather gripping the Northeast kept many in their cars until the store opened at 5 p.m. on Thanksgiving Day.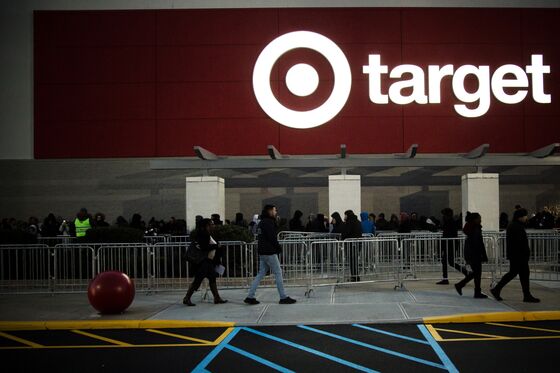 The combination of chilly, yet dry weather should be good for store traffic in the Northeast, according to Planalytics, a weather-data provider that works with retailers. Seasonal products like winter hats, gloves and scarves and sporting goods like skis should sell well from Baltimore to Boston, according to David Frieberg, the firm's vice president of marketing.
Once Target's doors opened, early birds went straight to the electronics department, where the Apple iPad Mini 4 ($250) and Sony PlayStation 4 Spider-Man bundle ($199) were hot sellers. "We're running low on them," store manager Rob Stermann said by phone, two hours after the store opened.
Three-foot-high plush teddy bears and dogs on sale for $10 went quickly as well, he said. Shoppers also snatched up sheets, blankets and other basic home goods, along with small kitchen appliances like Instant Pot six-quart pressure cookers.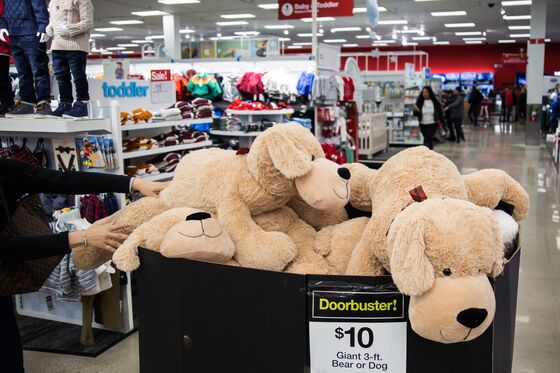 Still, many people chose not to brave the cold weather and shopped online. Stermann said his Westbury store processed twice as many online orders on Thursday compared with Thanksgiving last year. That's kept him busy, and he worked up an appetite.
"When I go home I will have a plate waiting for me," he said.
Thanksgiving Spending Reached $1.75 Billion (12:01 a.m.)

As of 5 p.m. on Thanksgiving day, Adobe Analytics said it had seen about $1.75 billion of online spending. That's an increase of almost 29 percent from a year ago.
Adobe, which will provide updated results throughout the weekend here, is measuring transactions from 80 of the top 100 U.S. online retailers. It is forecasting Thanksgiving online sales will reach a record $3.7 billion.
U.S. Shoppers Expected to Spend Big (12:01 a.m.)
An estimated 164 million people plan to join the shopping frenzy that stretches from Thanksgiving Day through Cyber Monday. That's about the same as last year, according to the NRF. Friday will be the most popular day, with 71 percent of respondents in its survey opening their wallets then.
Black Friday alone will produce $24 billion in sales, excluding automobiles, gasoline and restaurants, research firm Customer Growth Partners estimated. That total will climb to about $60 billion through Sunday. While Black Friday is often the biggest single shopping day of the year, the firm expects it will be topped this year on Dec. 22, the Saturday before Christmas, with projected sales of $26 billion.
Retailers are ready for the onslaught, bringing in a ton of inventory. Ports on the West Coast have been reporting record shipments in the walk-up to the season. Some of the surge is likely because of companies importing goods from China ahead of a big increase in tariffs on Jan. 1, according to the Port of Oakland.
Customer Growth Partners expects total holiday retail sales to climb 5.1 percent from last year. Deloitte predicts the final two months will result in as much as 5.6 percent growth, while the NRF sees it rising as much as 4.8 percent, excluding automobiles, gasoline and restaurants.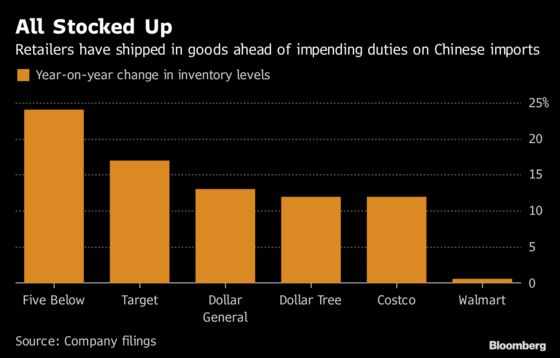 Households plan to spend an average of $1,536, according to an October report from Deloitte. That's 25 percent more than respondents in last year's survey said. Growing confidence in the U.S. economy and an improvement in household financial security are behind the increase, Deloitte said. About 40 percent will be spent on experiences, like entertaining at home. Gifts and gift cards account for about 34 percent.
Nordstrom, Walmart, Target Have Momentum (12:01 a.m.)

Nordstrom Inc., Walmart and Target saw big gains in online sales the week before Thanksgiving, according to a report from Edison Trends, an e-commerce research company.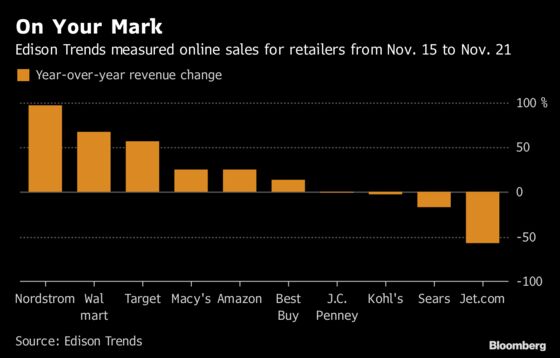 Nordstrom's web revenue almost doubled over the period -- Nov. 15 to Nov. 21 -- from a year earlier, while Walmart's increased 67 percent. Target Corp., Macy's Inc., Amazon.com Inc. and Best Buy Inc. also saw sales rise, according to Edison.
Online Sites to Grab Bigger Portion of Sales (12:01 a.m.)
E-commerce is now a key part of the equation. A Deloitte survey released this week shows 91 percent of holiday shoppers plan to head online during the long weekend, whereas 89 percent said they'd battle the crowds in stores.
Retail chains have invested heavily in their mobile and web channels and delivery service. This is expensive, however, and eroding margins has sparked questions about how companies will deal with the expense if the good times come to an end.
In the first 20 days of November, shoppers spent $31.9 billion online, a jump of almost 17 percent from a year earlier, according to Adobe Analytics. That included Monday -- the first "$2 billion day" of the season, Adobe said.
EMarketer Inc. sees web sales for the holiday season rising almost 17 percent to $123.7 billion.
Phone Orders Aren't What They Used to Be (12:01 a.m.)
Consumers are becoming more comfortable shopping with their phones, and major retailers are taking advantage of that by investing in mobile apps, according to Lexi Sydow, a senior analyst for mobile insights provider App Annie. Time spent in mobile shopping apps -- a proxy for shopping volume -- is expected to jump 25 percent over the next two weeks from a year earlier, according to the researcher.