Hitachi Dumps Japan's Hanko Stamp to Cut 500 Million Paper Forms
(Bloomberg) -- Hitachi Ltd., the sprawling Japanese conglomerate, announced a "paperless-office" plan this week that targets one of Japan's most entrenched business practices, the hanko seal.
In Japan, almost every official action -- from opening a bank account to signing a contract or registering a marriage -- requires a hanko, a unique, round, carved, red stamp considered more legally binding than hand-written signature. The millions of documents that daily need hanko stamps keep thousands of managers and government officials employed stamping papers. In a survey on working from home that Hitachi conducted in June, employees cited hanko as one of the reasons why they needed to go into the office during the Covid-19 outbreak.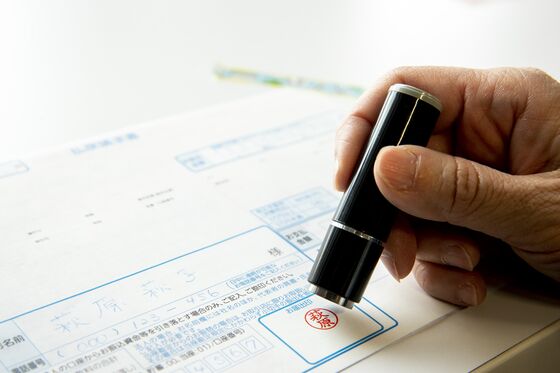 Hitachi, which makes everything from nuclear power plants to TVs, is one of the biggest in a growing list of companies and banks in Japan to promise to end the custom, setting a March 2022 deadline to abolish the stamping internally and switch to Internet-based systems. For external deals, Hitachi is negotiating with suppliers and customers to adopt e-filing. The company says the changes could cut paper use by 70% and save 500 million sheets of A4-sized paper a year.
"Hitachi is targeting to cut CO2 emissions throughout the supply chain by 80% by 2050," said spokesman Yuichi Izumisawa. "The paperless-office initiative is one of action plans toward the goal."
The company's initiative is in line with government efforts to speed up digitalization. Taro Kono, the minister for administrative reform, is spearheading an initiative to remove the hanko and reduce the use of paper documents in government.