Historic Win for Imran Khan Breaks Pakistan's Dynastic Rule
(Bloomberg) -- Breaking the dynastic hold on Pakistani politics, former cricket hero Imran Khan won the most seats in an election tarred by widespread allegations of rigging and military interference.
Khan's Pakistan Tehreek-e-Insaf, or Movement for Justice party, clinched at least 115 national seats, according to results released by the Election Commission of Pakistan. He beat the incumbent Pakistan Muslim League-Nawaz headed by his jailed main rival Nawaz Sharif. The PML-N saw its majority erode to 63 seats in the 342-seat lower chamber of parliament. The Pakistan Peoples Party came in third with 43 seats, with the other rest split among smaller parties. The election agency has yet to declare seven seats and Khan will have to form a coalition.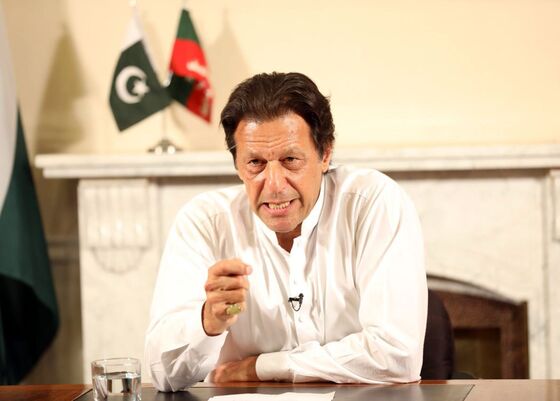 The victory for the 65-year-old ex-cricket captain turned anti-corruption crusader ends the decades long rotational grip of the army, Sharif's PML-N and the PPP headed by Bilawal Bhutto Zardari -- the son of assassinated former premier Benazir Bhutto -- parties Khan accused of entrenched graft, which they both deny. While Khan's pledge to eradicate corruption appealed to voters, his campaign was characterized by complaints by journalists, politicians and activists of so-called pre-poll rigging by the military, which has dismissed the allegations.
The vote was negatively affected by the political environment amid media restrictions and a problematic vote count, Michael Gahler, the chief observer of the European Union Election Observation Mission, told reporters in Islamabad on Friday. There were systemic efforts to undermine the PML-N and the conduct of the election was not as good as the previous one in 2013, he said.
Sharif's party initially rejected the results -- though his nephew Hamza Shehbaz Sharif later said the PML-N would sit in opposition. In a victory speech, Khan said he would probe the allegations, while acknowledged that fixing the economy was the "greatest challenge" and he would implement wide-ranging reforms. He also called for improved trade ties and peace talks with rival neighbor India and said the two countries needed to end the "blame game" over the disputed and split region of Kashmir, which both claim in its entirety.
"I assure if India takes one step forward, we will take two steps forward," Khan said in a televised broadcast.
The new government will also compete for influence over foreign policy with Pakistan's powerful military, which has ruled for much of the nation's history. Khan has courted right-wing religious leaders and has been highly critical of the American invasion and conduct in Afghanistan. He has long criticized the U.S. for drone strikes in Pakistan, taken a hard line against India and expressed support for China's $60 billion infrastructure program.
Khan, who has led a relentless anti-graft campaign was seen as the military's top choice for prime minister despite his denials. Sharif has clashed repeatedly with the armed forces over the years and was jailed this month on corruption charges, which he is appealing.
The PTI leader campaigned on making Pakistan an "Islamic welfare state," but the party will first have to deal with a mounting financial crisis: four currency devaluations since December have made it likely the next government will need to seek another International Monetary Fund bailout. Pakistan's main stock index has risen more than 3 percent since Thursday.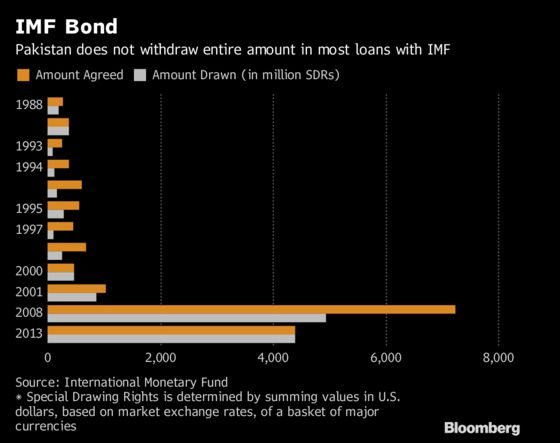 Pakistan's rapidly deteriorating finances will be top of the agenda for the next government. The currency -- the worst performer in Asia -- has plunged 15 percent since December. The central bank has raised interest rates, the current-account gap has widened by 43 percent in the last fiscal year and foreign-exchange reserves are dropping.
"The economy is facing extreme stress," Asad Umar, a member of Khan's party favored to become finance minister, told Bloomberg News before the result. "There is a need for urgent structural reforms."
With 44 percent of the electorate between the age of 18 to 35, Khan's anti-corruption mantra and tirades against the two main dynastic parties won support particularly from young voters thirsty for change.
"I vote for change -- we have no choice," said 18-year-old Muzamil Asif, a communications student and PTI supporter who cast his ballot for the first time in Karachi, Pakistan's financial hub and largest city.
The election is only the second time there has been a straight transfer of power between civilians in Pakistan's 71-year history. No prime minister has ever managed to complete their term, with many ousted in a range of coups and corruption charges.
Despite Khan's win, future civilian-military clashes are inevitable and will limit a new government's ability to enact reforms, according to senior diplomats in Pakistan who asked not to be identified to discuss sensitive matters. They said the military's meddling heading into the election has been unprecedented since the end of army rule in 2008. An army spokesman didn't respond to a phone call or email request for comment.
There are also concerns over Khan's ability to govern at a national level.
"They're inexperienced and then having a large bunch of strong, experienced lawmakers in opposition will complicate things for them," said Ishtiaq Ahmed, the vice chancellor of Sargodha University.