Higher Oil Prices May Mean Profit Pain for These Stock Sectors
(Bloomberg) -- A higher crude price is an unequivocal good for oil companies, but as the third-quarter earnings season approaches, there will also be sectors to watch for warnings on how higher spending on energy is eating into profit.
Oil prices have surged in 2018. Even with the dip seen during last week's sell-off, Brent is up around 26 percent and WTI has risen 22 percent. The prices have been driven higher as OPEC members struggle to pump enough to fill the gap left by declining production from Venezuela and a sanctions-hit Iran.
U.S. President Donald Trump has complained about oil prices, International Energy Agency Executive Director Fatih Birol has said they're "entering the red zone" and inflicting damage on the global economy, and the IEA, in its monthly report, sees oil demand slipping but prices staying high.
The most obvious beneficiary is the oil and gas sector, which is now reaping the returns of earlier cost slashing to keep projects viable during down times. This leaves European oil stocks set to deliver a "cash eruption" as the companies can dole out healthy dividend payments and still have enough left over for buybacks and to repay debt, Kepler Cheuvreux analysts said in a report.
But as oil producers rejoice, others have reasons to be fearful. Here are the sectors where a higher oil price threatens profit: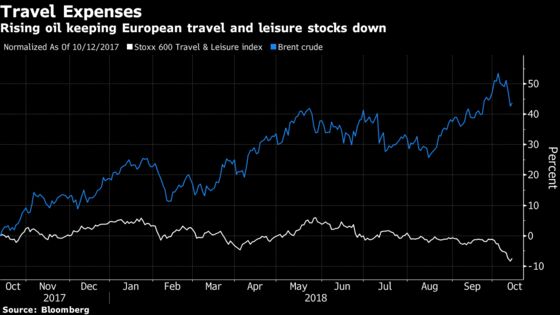 European airlines sounded the alarm early on the impact the higher oil price will have on their results. During the period of low jet-fuel prices, airlines rapidly ramped up seating, meaning carriers needed to keep fares down to get passengers to choose them over rivals. Now, capacity is too high, so airlines are still having to compete fiercely for customers while contending with higher kerosene costs that are putting profitability under pressure, according to a UBS Group AG report.
Those margin pressures extrapolate out to essentially any company that uses planes, trains, automobiles or ships to transport people or goods. In Europe, this covers bus and rail operators like Getlink and FirstGroup Plc, postal services like Royal Mail Plc or Deutsche Post AG, and shipping groups like A.P.-Moller Maersk A/S and Hapag-Lloyd AG.
Rising costs for crude-based inputs can erode consumer-company margins, according to Karolina Noculak, investment strategist at Aberdeen Standard Investments. Crude oil and derivatives, including surfactants, make up about a third of raw-material spending for household-products makers, according to UBS estimates, so rising oil prices can have a significant impact on margins. Fast-fashion companies, like Industria de Diseno Textil SA and Hennes & Mauritz AB, can also be burdened as they tend to use a higher volume of synthetic fabrics, Noculak said.
"In general, a continuous oil-price increase is good for the chemical industry," Baader Bank AG analyst Markus Mayer said in a phone interview. "This is normally correlated with a positive economic environment. However, right now everyone doubts that this is really the case." An increase in oil prices "might be a problem" for chemical producers should the rising raw-material costs coincide with declining demand.
Companies most likely to be put under pressure are petrochemical makers or "commoditized" specialty-chemical names, including Lanxess AG's engineering-plastics unit or Arkema SA's acrylic operations. The effects could be more mixed on BASF SE, with its chemical division burdened by additional costs but its oil and gas business benefiting from higher prices.
Aberdeen Standard Investments' Noculak added that sustained increases in oil prices typically have an impact on headline inflation, which then feeds through indirectly to bond markets and higher government-bond yields. This tends to create a good environment for banks and insurers, but could push down shares in bond-proxy sectors like utilities and real estate stocks, a development seen recently with the rise in Treasury yields.