High-Yield Market Eyes LBO Boost After October Bond Sales Slow
(Bloomberg) -- Broad risk market volatility and a lack of M&A deals compared to previous months hindered European high-yield bond sales in October. And while some LBO-related issuance is expected in the coming weeks, investors say they are unexcited about prospects for the primary market going into year-end.
Bond sales in the region totaled 4.6 billion euros ($5.3 billion) in October, a fraction of the 15.3 billion euros seen during the same month last year, according to data compiled by Bloomberg.
Syndicate bankers expect a fresh but limited number of LBO deals from both corporate and sponsored buyouts including International Design Group to help lift volumes in November, as borrowers and arrangers take advantage of the last window for issuance before the market winds down from mid December.
Helped by an LBO sales rush in September, year-to-date high-yield issuance is at 60.0 billion euros, 27 percent less than the amount priced in the same period of 2017--a year in which sales climbed to their highest ever level amid all-time low yields.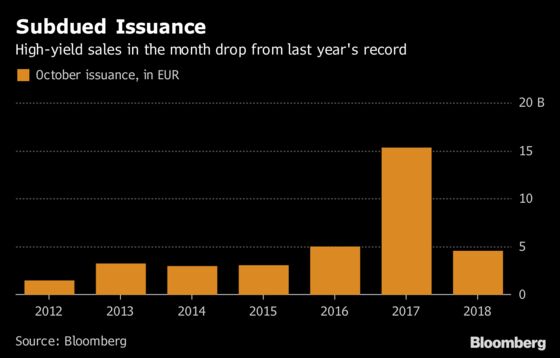 "Primary market is poor, a function of companies not having to issue, and those that do have the choice of bonds and loans," said Colm D'Rosario, a portfolio manager and co-head of high-yield and emerging markets corporate at Amundi Asset Management, which manages 1.47 trillion euros in assets.
"A couple of deals have priced with interesting levels but by and whole it's been a trade off of price for quality," D'Rosario said.
Only seven borrowers ventured into the market last month, and those that did had to face warier investors. Netflix Inc. offered European buyers yields at the high end of its price expectations when it raised 1.1 billion euros, while Recordati SpA priced its fixed-rate tranche higher than levels discussed at the start of the roadshow.
A further example of nervousness around the market took the form of Victoria Plc. The U.K. flooring manufacturer said this week it was considering whether to proceed with a bond sale halfway through the marketing process after a profit warning on Monday sent its shares tumbling 35 percent.
Credit markets in Europe widened last month, fueled by Italian budget discussions, Brexit negotiations and a global stock selloff.
Against this backdrop euro yields for speculative-grade debt broke through 4 percent for the first time in almost two years, Bloomberg Barclays index data show. Europe's high-yield market delivered negative returns of 1.13 percent in October, making it the second biggest monthly loss for investors this year.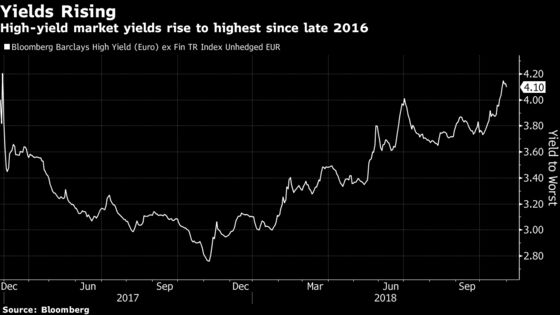 October was also marked by the continuation of extreme price swings in the secondary market, triggering yet more caution among some investors.
"There is not a lot of issuance expected and investors are very defensively positioned," said Olivier Monnoyeur, a high-yield portfolio manager at BNP Paribas Asset Management, which oversees 560 billion euros.
"So we've been buying higher quality names that have lost one or two points. Our longer one-year outlook however is that spreads will continue to move wider on the removal of QE and slower growth," he said.