High Water Marks Get Their Last Chance This Week: Taking Stock
(Bloomberg) -- The last full trading week of 2018 is sure to be a doozy, and for some, the last chance to hit that high water mark, close it down and put the year away as one to forget. With the three major averages all in correction territory, thin volumes and holiday-thinned trading next week may make it difficult to make up any meaningful losses.
We all know what happened the last abbreviated week we had -- when markets closed to honor President George H. W. Bush -- with mini flash crashes and head scratching abound, and one has to imagine volatile conditions next week would pose a very real issue for those just seeking to end the year in the green. FTSE 100 volumes are already 30% below their 20 day average volumes Monday and we still have many sessions to go before the holidays.
We're not off to very good start this morning, though it could be worse after major European online fashion retailer Asos fell nearly 40% in London trading after trimming its forecasts for the Christmas season. The mood in the consumer discretionary space soured, with Next plc and Marks & Spencer among the biggest losers in the sector. But stateside, considering we didn't even pretend to rip higher early Friday before selling off the whole day, flattish S&P futures Monday appear to be a win.
Economic data points and clouds surrounding Presidential investigations lurked and this weekend provided no clarity. The J&J selloff shows no signs of abating despite the fact the Reuters story about asbestos concerns was very similar to one published by Bloomberg in 2017. Shares are off another 0.5% in the pre-market after being responsible for nearly 10% of the S&P's negative index points Friday. Risk off names like real estate and utilities were nowhere to hide either.
To have succeeded these year, you would have had to convert on headline risks thrown your way.
As much as market soothsayers attempt to minimize the daily gyrations in the market as "noise", or irrelevant over the long term, the bottom line is, we are nearing the end of the year and what makes or breaks performance will ultimately be driven by developments we see day to day.
The market clearly reacted when Theresa May delayed the Brexit vote (chatter of a new referendum is building, though party leaders attempted to quash it over the weekend). The bail hearing for Huawei CFO Meng Wanzhou was closely watched as a proxy for U.S. and China trade relations, and when bail was granted and when Trump implied he would consider an intervention, the market reacted. The Powell "pivot" as its being described, also gave the market a nudge. Let's also not forget the OPEC decisions and oil story that weighs on the energy sector.
And as we close near crucial technical levels day to day, all of those moves matter. Friday brought with it a day where broke crucial support. 2581 on the S&P 500 may be the next focus and is just 18 points from the Friday close. April lows reached 2581.88 and February saw 2581.00.
The Fed's meeting will be closely watched by the bulls hope for positive growth signals combined with a special dose of limited inflation. Oracle earnings today bring with it enough firepower to reignite a technology space that is in desperate need of support. Rotation to utilities in the past months has been oft cited, in this column and elsewhere and Citi's latest fund manager survey finds that the Utes may be waning in favor. The other defensives, like consumer staples, may actually be finding some slight support, according to the bank. Financials still have "believers", Citi finds, despite a recent rough slog whereby yields have come down with growth expectations.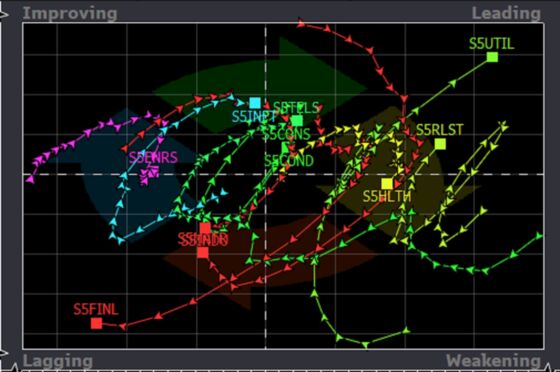 Some cold water may be thrown on some of that narrative this morning after the 1MDB scandal took another turn for Goldman Sachs. Prior estimates of risk for Goldman related to the scandal were pegged near $1.8b (estimated fines of $1.2b and the return of the $600m in fees as a non-operating charge in 1Q19, according to Morgan Stanley in late November) but with criminal charges now filed from the Malaysian government, renewed scrutiny and pressure may be placed on the shares, already down 0.7% pre-market.
Other defensives that found favor in the survey included health care, though that sector too Monday had a wrench thrown its way. The late Friday ruling from a Texas judge found a segment of the Affordable Care Act (ACA, Obamacare) as unconstitutional. The judge found that Congress's decision in 2017 to kill a related tax penalty essentially voided the entire Affordable Care Act. While many analysts expect the ruling to be reversed by higher courts, the news adds to volatility in a sector. Hospital names THC, CYH are weaker in pre-market trading.
A final tape bomb to watch is the potential U.S. Government shutdown that may occur later this week if President Trump and Democrats can't come to a compromise over the border wall funding. And another sector to watch includes marijuana names after New Jersey delayed a vote to legalize recreational marijuana (watch TLRY, CGC, CRON, APHA, STZ) into 2019.
Here's some stuff you might have missed since Friday's close:
Short seller target that saw more than 30% of its value wiped last week XPO Logistics profiled in the WSJ after its first ever buyback announcement Friday; founder of online video co. Vine and viral HQ Trivia was found dead of an apparent overdose; Patriots lost to the Steelers for the first time since 2011; Giants were blanked by the Titans; Cleveland Browns now have a slight chance at the playoffs; Sprint's deal with T-Mobile was given national security approval; Sec. of the Interior Zinke is to leave by year-end; Trump tweeted SNL was a 'spin' machine after Alec Baldwin reprised his role as the commander-in-chief in a "It's a Wonderful Life" skit; a Bears offensive lineman proposed to his girlfriend after the Bears beat the Packers; Barron's cover story includes its top picks for 2019, which include AAPL, GOOGL, BAC, BLK, CAT, CVX, DAL, Daimler, TOL (+0.6% pre-market), Energy Transfer, (they also discussed Gold and Copper, laggards of 2018 which could lead in 2019).
Best Buy is one of the biggest losers in pre-market trading after BofAML analyst Curtis Nagle downgraded the electronics retailer for the second time since November and becomes its biggest bear with a Street low price target. Nagle sees a likelihood Best Buy will miss its 4Q comps figures and the street estimates may be too high. He cites softening industry trends, and caution in the gaming and TV sector.
Sherwin-Williams was raised at JPMorgan by Jeffrey J. Zekauskas, with a rating now going to overweight. He cites "positive momentum" for coatings companies to raise prices, combined with lower costs for raw materials in 2019 vs 2018. Zekauskas discusses lower Brent prices seen recently, as they tend to lead to lower solvent and plastics prices. His new price target of $415, assumes 7.5% upside.
Tick-by-Tick Guide to Today's Actionable Events
Today -- IPO lockup expiry: EIDX
8:00am -- EQH business update call
8:30am -- Empire Manufacturing
10:00am -- NAHB Housing Market Index
12:00pm -- ATNX research & development day
4:00pm -- TIC Flows
4:05pm -- ORCL earnings
4:15pm -- RHT, HEI earnings
4:30pm -- ACHN business update call
5:00pm -- ORCL, RHT earnings call