High-Flying Indonesian Retail Stock Has Little Room for Error
(Bloomberg) -- With a rally that has beaten all of its peers on a key local stock gauge, home-product retailer PT Ace Hardware Indonesia now needs to justify the market's faith or risk losing investors.
Shares of the company, which began as a joint venture of U.S.-based retailer Ace Hardware Corp., are up 10% in 2020. With most components still reeling from the coronavirus-related selloff, that's good enough to rank it No. 1 on the MSCI Indonesia Index, which remains down 20% on the year.
While Ace's American namesake is private, shares of its major peers in the U.S. have similarly outperformed. Home Depot Inc. and Lowe's Companies Inc. have each risen over 20% this year, helped by a renewed consumer interest in home-improvement projects amid the pandemic.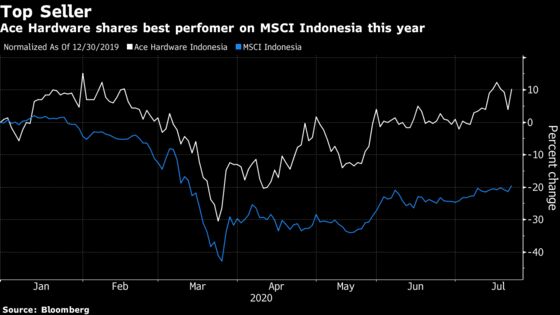 The Indonesian hardware store operator saw its sales dip 7.1% in the first half, which Aberdeen Standard Investments sees as better than expected given the slowdown in economic activities due to the coronavirus. But trading at a six-year high of 28.3 times earnings estimates for the next 12 months, Ace is seen with little room for error.
"Their sales in the first half have been holding up well as people spend more for home improvement products during the physical curbs," said Bharat Joshi, a Jakarta-based investment director for Aberdeen, which owns a 2% stake in Ace, according to data compiled by Bloomberg. While investors bought up the stock for its defensive properties, it is now "priced for perfection, and the company should back it up with the earnings," Joshi said.
Demand remains the critical question. Southeast Asia's largest economy may be headed for its first recession since the late 1990s, potentially sending millions back into poverty. Covid-19 has infected nearly 90,000 people and killed more than 4,000 in Indonesia.