High-End Arabica Coffee at 9-Year High With Supply Risks Worsening
(Bloomberg) -- Prices for high-end arabica coffee beans touched nine-year highs Monday with turmoil in Africa adding to crop woes in South America and skyrocketing costs for farmers.
Ethiopia, the world's third biggest grower of arabica beans, is in the throes of civil war, with government forces battling rebels from the northern Tigray region. Curfews were recently imposed in the Oromia region, and U.S. Secretary of State Antony Blinken expressed concerns Friday that the African nation could implode.
The beans used by companies from Starbucks Corp. to Nestle SA's Nespresso brand have already jumped 77% this year after frost and drought dealt devastating blows to crops in top shipper Brazil. Excessive rains have also curbed output in second-ranked Colombia.  
The March contract rose as much as 2.8% to $2.2825 a pound on ICE Futures U.S., the highest for a most-active contract since January 2012. 
Besides war and adverse weather, a host of other factors are pushing up coffee. Farmers are facing rising costs for everything from fertilizer to labor and fuel. Freight costs have soared, hurting trade flows. Some South American producers have defaulted on contracts, exacerbating financial stress for coffee companies short on supplies. 
Buyers are turning to certified stockpiles to meet near-term needs. Helping the move Monday is a public holiday in Brazil, which is keeping sellers at bay, said Carlos Mera, analyst for Rabobank International in London.  
"Several other factors continue to pressure prices upwards, particularly those that affect coffee flow such as limited vessel space, access to the Brazilian port of Santos and the growing risk of potential defaults in Colombia," said Jorge Cuevas, chief coffee officer for Sustainable Harvest, an importer in Oregon.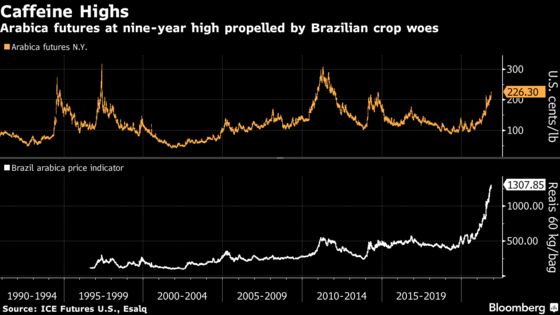 "We continue bullish with the market's upside target in the medium term at $2.80 a pound," Marcelo Fraga Moreira, analyst for Archer Consulting in Sao Paulo said in a report.
In London, robusta coffee futures rose 1% to $2,299 a ton. The cheaper variety, which is used in instant beverages, has risen 66% this year. Vietnam, the top supplier, has seen flows affected by the supply crisis and surging costs for Asian routes.